September 7, 2019
10:00 a.m.–11:30 a.m.
Location
Tunnelville Cliffs, La Farge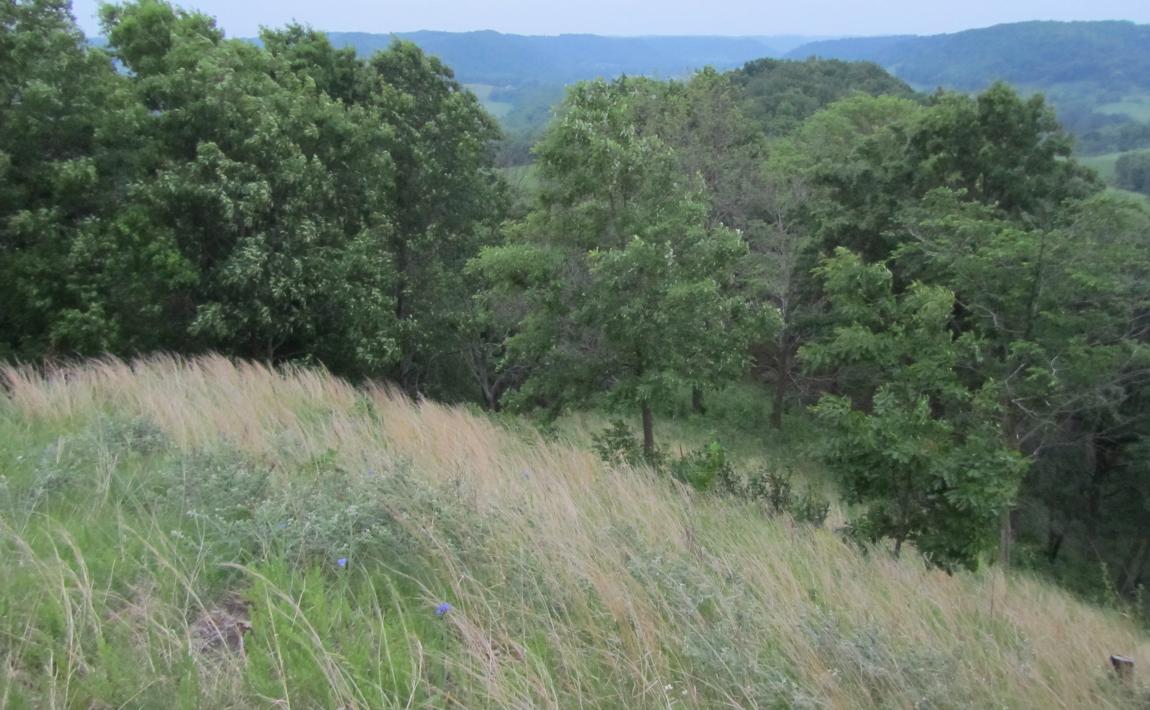 The practice of yoga will be shared for its many spiritual and health benefits by yoga instructor Jessica Jerman after a guided hike of Tunnelville Cliffs State Natural Area near the town of La Farge in Vernon County on Saturday, September 7, 2019, starting at 10 a.m. The hike is one of Mississippi Valley Conservancy's 2019 "Linked to the Land" outdoor experiences on the many nature preserves it protects for wildlife habitat, scenic beauty, education, and recreation in the Driftless Area.
This hike blends the practice of yoga (standing poses) with an easy hike in a beautiful natural setting. Yoga has long been known to have restorative properties for the mind as well as increasing balance, and other physical health benefits for the body. The yoga session is preceded by an out and back guided hike of 1.6 miles across an expansive prairie and through ridgetop woods that lead to stunning views of valleys and farms – all awaiting the fall color change.
Jessica Jerman started doing yoga in 2002 while in college and discovered a practice that fed her physical, mental and spiritual yearning for something more. She has completed two 200-hour teacher trainings – one in Vinyasa in 2005 and another alignment focused training in 2014 with teachers from Anusara and Iyengar traditions. She studied and taught internationally and has taken additional courses in yoga for stress management, addictions and trauma. Jessica currently teaches a mixed level yoga class on Wednesdays from 5:30 p.m.-6:45 p.m. at Tapestry Yoga Center in Viroqua. Her classes integrate principles of alignment with elements of flow to invite each student to honor their potential and respect their limitations. Jessica also offers private and semi-private classes for individuals or groups. Please contact Jessica at [email protected] or 608.606.1881 for more information.
The yoga hike takes place at Tunnelville Cliffs State Natural Area, an 1,118-acre nature preserve in Vernon County that is owned and permanently protected by Mississippi Valley Conservancy.
REGISTER BY SEPTEMBER 4
Please use the registration form below. One registration per person is required. With questions, contact Carol Labuzzetta at [email protected] or call 608-784-3606 ext. 7.
What to bring:
Water, comfortable clothes, and closed toe shoes/sneakers. Insect repellent and/or sunscreen depending on conditions.
September 7, 2019
10:00 a.m.–11:30 a.m.
Location
Tunnelville Cliffs, La Farge
Directions
PLEASE NOTE SLIGHT DETOUR DUE TO BRIDGE REPAIR ON ROUTE FROM LA CROSSE:
From La Crosse take Hwy 14/61 east to Westby. In Westby turn left onto 27 for .5 miles then turn right onto County Rd P. Follow County Rd P for 5.5 miles until you reach County Rd D and turn right. Follow County Rd D for 2.7 miles until you reach Buckeye Ridge Road and turn left. Follow Buckeye Ridge Road for 2.7 miles and then turn right on Green Hollow Road. Follow Green Hollow Road to Hwy 82 (2.1 miles) and turn right. Follow Hwy 82 for 1.1 miles to Husker Hollow Rd and turn left. Take Husker Hollow Rd 1.3 miles up the hill until you reach Tunnelville Rd. Access is at the intersection and parking is on the roadside.
If you're coming from Viroqua or other nearby towns, simply take Hwy 82 to Husker Hollow Road and then up the hill on Husker Hollow Road to Tunnelville Rd.