Our 2022 Giving Tuesday Challenge includes a MATCH!
Our Giving Tuesday goal is to double our intern crew in 2023 to double the impact of our summer land management work.
To make that happen, your gift will be doubled with a challenge grant from a generous donor. Everything's doubled.
That's why we call it 2x For the Wild!
Here's what Levi, a landowner, and this year's crew have to say about the beneficial work of our summer intern crews!


2X THE OPPORTUNITIES FOR STUDENTS
By doubling the intern crew, there will be more opportunities for students to gain valuable hands-on experience caring for the land alongside our staff members and landowners, and exploring different careers in the conservation field.
2X THE HABITAT RESTORATION FOR WILDLIFE
By doubling our intern crew, more of the wild lands you've protected will be restored and maintained. More invasive species will be removed, helping native plants and wildlife to flourish. We'll be able to help more conservation easement landowners with their stewardship projects, too.
2X THE CLIMATE PROTECTION
Doubling the crew, means more hands on the ground caring for deep-rooted native plants and nurturing forests that prevent soil erosion, slow the run-off of rain and protect water quality.
All funds raised will go toward intern pay and acquiring the necessary tools, safety equipment, and a pull-behind mower, to support a second intern crew. They will also support the process of recruitment and training to ensure a safe and productive crew.

Why a second intern crew?
With more land to protect and manage comes the need for more hands on the land. Help us double 2023 the crew, so we can double our impact next summer!
Each summer a crew of 3-5 interns is hired to help with land management on our conservation easement sites and conservancy-owned nature preserves. The paid crew members gain skills and experience in effective stewardship with invasive species removal, timber stand improvement, firebreak construction and other methods of protecting native prairie and woodland ecology.
By bringing on two crews in 2023 – 6-10 budding conservation professionals! – we'll be able to do twice as much land management work in the summer and nurture twice as many new conservationists!
This internship provides a unique opportunity for a new generation of conservation professionals to gain valuable hands-on experience, training, and networking opportunities.
What exactly do the interns do and how?
Each year, the intern crew restores native habitats on lands you've protected for clean water, wildlife and community health. They do this by removing invasive/non-native plant species, planting trees and prairies, preparing land for managed fires, improving trail access, and advising and assisting land owners.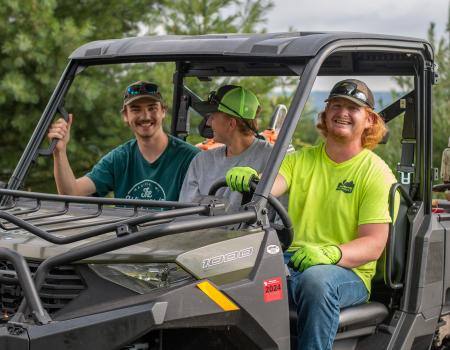 Why restore wild places?
We're building resilience to help native habitats thrive today and in the future
We're on a mission. A mission to conserve native habitats and farmlands in the Driftless Area for the health and well-being of current and future generations. A mission to protect the land that sustains us.
 
We work year-round to bring natural areas back to functioning, healthy states by removing invasive plant species and using tools like prescribed burns, seed collection, and tree and prairie planting to restore prairie and savanna habitats. To enhance biodiversity and protect declining species. To provide access to natural spaces for our community to enjoy now – and forever.
 
This work is increasingly important in this time of global climate change. Prairies, forests, wetlands, streams, and farmland, right here in the Driftless Area, are at risk as never before. Improving the health of these habitats gives diverse wildlife species places to adapt to the changing climate.
 
We invite you to join our mission and make a gift in support of local conservation – giving current and future generations room to play, forests to discover, and land they can count of for years to come.