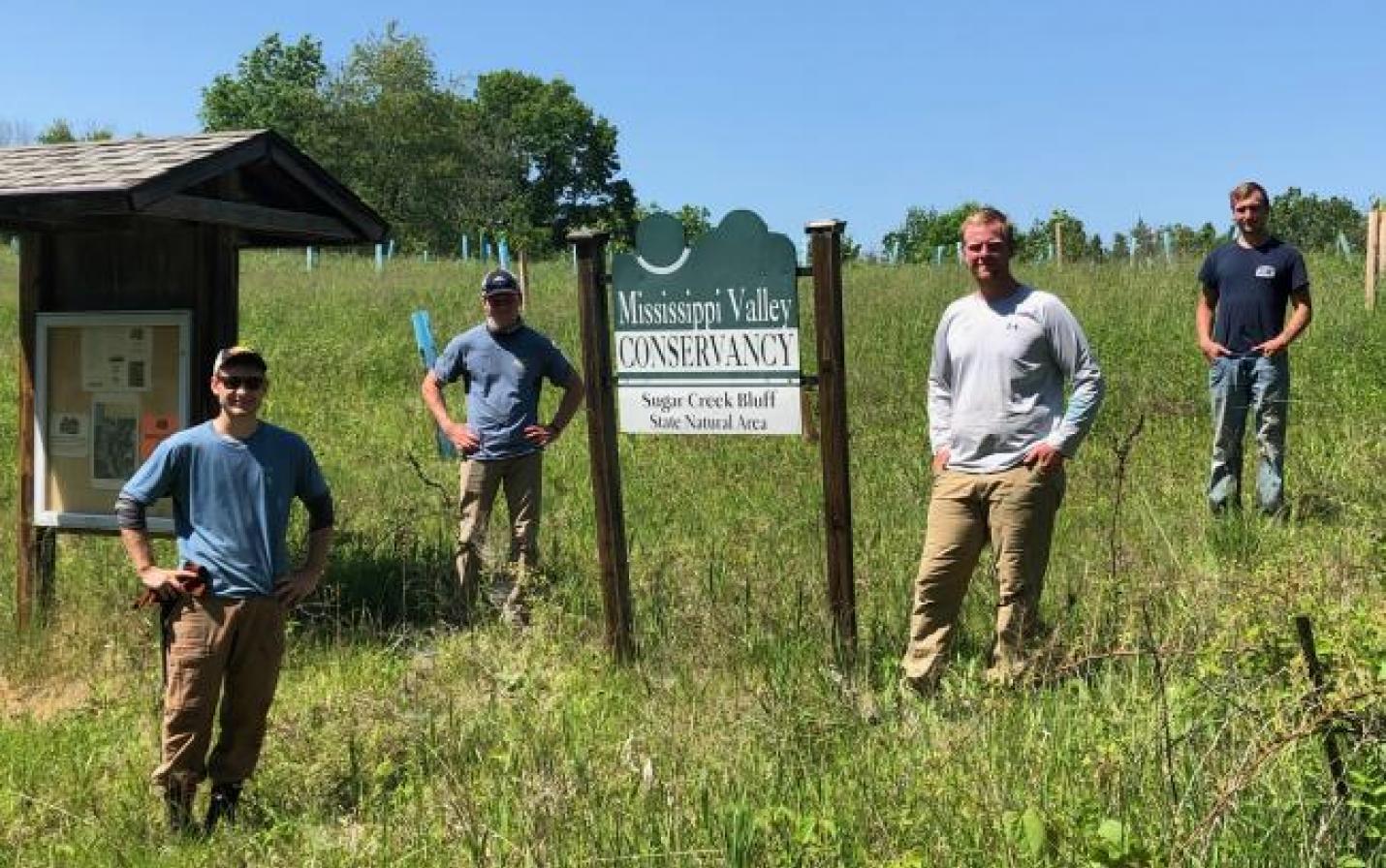 The work of the crew includes a variety of habitat restoration activities, including trail maintenance, invasive species removal, boundary posting, firebreak construction, and general clean-up. They're fortunate to have land manager Levi Plath as their mentor for the summer!
Beyond the technical skills and experience gained, the interns also work in a variety of ecosystems as well as meeting landowners and representatives from other conservation agencies. The Conservancy's internship program gives these individuals field experience that helps them to determine the best career path within their areas of interest. It's a mutually beneficial arrangement, and we could not be more grateful for their efforts. We look forward to sharing stories of their accomplishments later this summer.
Each of the interns shared a little about himself for this story below.
Pictured above are the 2020 habitat restoration interns, from left to right, Freddy Ragan, Ben Halfmann, Reece Mullen, Jon Baranowski.
Freddy Ragan – crew leader
My name is Freddy Ragan and I am a student at UW-L. I am majoring in Biology and Minoring in statistics and environmental studies. I served in the AmeriCorps for 1 year in Denver, CO, and went on to become an EMT there. I am interested in land preservation/conservation as a future career and am returning to the Conservancy as Crew Leader for my second year of the summer internship.
Ben Halfmann
My name is Ben Halfmann and I am 20 years old. I just finished my general education at Western Technical College and graduated with my ASLA degree. I plan on continuing my education at UW La Crosse for a bachelors degree in environmental sciences or biology. After two summers of employment at Perrot State Park in Trempealeau I found that I love working outdoors, and through this interest I applied for an internship with the Mississippi Valley Conservancy. I understand the importance of conserving the lands in our area, and I look forward to working hard and learning more each day!
Reece Mullen
Hello, my name is Reece. I'm a senior at the University of Wisconsin – Stevens Point. I'm majoring in Biology with an emphasis on zoology and ecology, as well as a Conservation Biology minor. Growing up hunting and fishing helped me to form a passion for the outdoors. As my schooling progressed, my passion for the outdoors quickly evolved into passion for conservation. The continuous need for habitat management and need for public lands with proper access became evident through my experiences. I'm looking forward to the opportunity to work at the conservancy and contribute to the conservation efforts!
Jon Baranowski
My name is Jon Baranowski, I'm currently a sophomore at UW-La Crosse. I'm studying Biology and Spanish. I have experience working with the Wisconsin DNR as a licensing agent at my family's sporting goods store in Green Lake, Wisconsin. Additionally, I have volunteer experience working with multiple local conservancies in Green Lake. I was selected as the 2019 Charlie Marks Memorial Environmental scholarship awardee. In my free time, I enjoy fishing, spearfishing, hunting, birdwatching, and camping.