Prairie Seed Harvest Series
October 3, 2023–November 1, 2023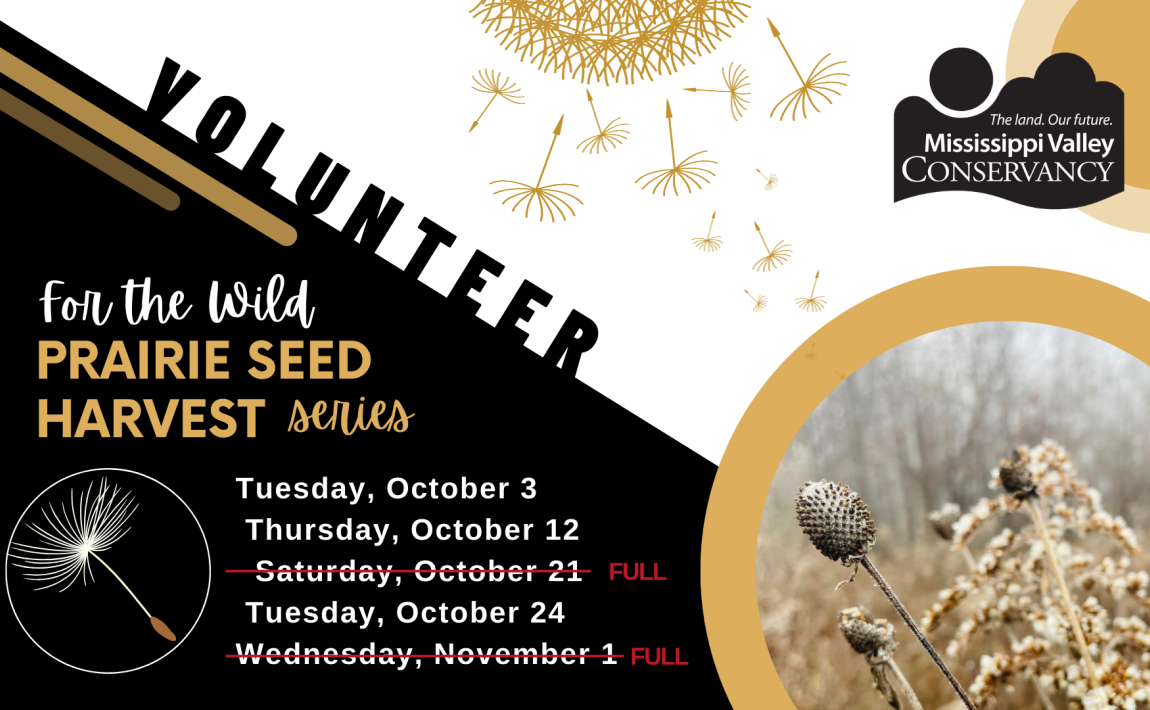 Dates & locations:
Tuesday, October 3 @ Boscobel Bluffs State Natural Area

Thursday, October 12 @ Boscobel Bluffs State Natural Area

(FULL) Saturday, October 21 @ Sugar Creek Bluff State Natural Area

Tuesday, October 24 @ Sugar Creek Bluff State Natural Area

(FULL) Wednesday, November 1 @ Sugar Creek Bluff State Natural Area
Time: 9am start time, departure is at your discretion. We will be working on-site until 3:30pm.
What: Fall is here! Join Mississippi Valley Conservancy as we restore remnant prairie by harvesting native seed. The seed you harvest will be broadcasted in areas where we've cleared brush to expand high quality prairie.
Why: Remnants are small remaining patches of the original prairie landscape that have not been cropped, overgrazed, or otherwise destroyed. Very few remnant prairies exist in the mid-west today, and most are in need of careful management if they are to be conserved. We will be harvesting a portion of the seed from native plants in these remnants so that we can redistribute the seed strategically in areas where we've cleared brush to expand high quality prairie. We strive to keep the seed we harvest near to the site where it was harvested because those plants are best suited to the environment they have adapted to. Restoring prairies is important because they:
Support a wide diversity of native species that all contribute to a more stable and resilient ecosystem.

Produce food, cover, and nesting sites for a wide variety of wildlife including insects and pollinators

Increase moisture retention and reduce erosion

Recharge and filter groundwater

Reduce erosion and nutrient runoff

Improve soil quality by upcycling deep dwelling nutrients and increasing organic matter

Contribute to carbon sequestration
How: Seed identification training will be provided at the start of the harvest. Volunteers will be equipped with collection bags and containers around the waist to free up hands for collecting. Seed can be stripped by hand from many species. Prickly seed heads will require gloves and shears for efficient collecting.
Learning opportunity: Become familiar with identifying native seed heads, brush up on your plant ID skills, enjoy the bustle of prairie pollinators and critters as we wade through tallgrass and forbs.
Difficulty: Easy. Prairies where we will harvest are on steep slopes which may require careful footing and balance. There may be a short hike to the harvest site. The task itself requires little effort.
Forecast: anticipated average temps in the 60s.
What to wear: Sturdy boots, long pants, a hat to protect from the sun, a light jacket in case it is chilly.
What to bring: Water bottle, work gloves if you have your own, sunblock/ insect repellant, snacks or a lunch, pruning shears if you have your own.
What we will provide: Water to refill your bottle, work gloves if you don't have your own, sunblock and insect repellant.
Questions? Email [email protected]
CLICK HERE FOR A SIMPLE GUIDE TO THE SPECIES WE WILL BE HARVESTING
Register Below!
October 3, 2023–November 1, 2023
Directions
Boscobel Bluffs State Natural Area:
From La Crosse follow US-14/61 south to Readstown. Turn right/south onto US-61and follow for approx. 40 miles then turn left/south on Elm St/US-61 and cross the Wisconsin River in Boscobel. Then turn left/east onto Mary street, continue straight onto Fremont St./County Rd. MS. Destination parking is 1 mile ahead on the left.
Google pin: https://goo.gl/maps/8jHSXx64Hzydo4Rx7
Sugar Creek Bluff State Natural Area:
North Buck Creek Rd Access: From Hwy 35, turn left on N Buck Creek Rd. About 1/4 mile up the road on the right, there is a gate and rec use sign with pull-off parking access. About 1 mile up N Buck Creek Rd on the left, there is a parking area with a kiosk and gate where the main trail can be accessed.
Google pin: https://goo.gl/maps/JkdmkGFeBcKjKbHD9