Properties on the Market with Conservation Easements
As a service to those who protect their land with Mississippi Valley Conservancy, we occasionally have the opportunity to help landowners sell their conserved land by listing them here. When you purchase conserved land, you receive all the benefits and wisdom of the seller and our conservation team. And the rest of the world benefits, too.
The following properties are currently on the market:
33 Acres of Scenic and Diverse Blufflands For Sale – Price TBD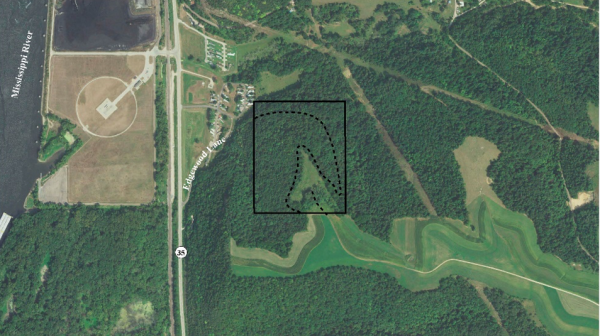 Subject to a conservation easement held by Mississippi Valley Conservancy
The property is comprised of 33 acres of steep, vacant land located in the Town of Genoa in Vernon County, Wisconsin. The Property is located ½-mile south of Genoa and ½-mile east of the Mississippi River at the dead end of Edgewood Lane. This property is only available as recreational land; agricultural uses and residential subdivision are prohibited. Wildlife is abundant throughout the site. This forested property is enrolled in the Wisconsin Managed Forest program until 2026 and includes a mix of mature oak, walnut, maple and basswood forest. A small, six-acre open field on the property has been planted to native prairie vegetation with some bur oaks planted as an oak savanna restoration project. 
Access requires four-wheel drive and is available on a logging road from the end of Edgewood Lane up to the hilltop.  
Property taxes: $225.06 in 2022
Tax Parcel Number: 014-00802-0000
The site includes debris and foundations from a historic farmstead, last used in the 1950's. There is at least one open cistern, a silo, a car body, and a well of unknown condition. Downloadable PDF includes additional photos:
The purchase price will be determined by an independent appraisal. Please contact Abbie Church, Conservation Director at Mississippi Valley Conservancy by email or by phone at 608-784-3606 ext. 2 for more information. 
Other listings 
For additional listings in other parts of the state and country, visit ConservationSellers.org. Conservation Sellers is a free resource for connecting buyers and sellers of conservation properties. This site is maintained by a small group of conservation-minded friends who want to encourage more land stewardship in North America.