There are many sources where you can find fact-based, reliable, information about climate change, its impacts our lives, and ideas on what to do about it. Here are a few:
1. Climate Wisconsin: Stories from a State of Change. PBS Wisconsin. Videos and stories from people in Wisconsin, including farming, forestry, and fishing, from people who live here.
2. Katharine Hayhoe. Dr. Hayhoe is one of the world's respected climate scientists and climate communicators. She serves as Chief Scientist at The Nature Conservancy and Paul Whitfield Horn Distinguished Professor and the Political Science Endowed Chair in Public Policy and Public Law in the Department of Political Science at Texas Tech University.
Dr. Hayhoe has published numerous articles and co-authored several books including "A Climate of Change: Global Warming Facts for Faith-Based Decisions," a book that untangles the complex science and tackles many long-held misconceptions about global warming. Her latest book "Saving Us. A climate scientist's case for hope and healing in a divided world" has received widespread support.
3. Wisconsin Initiative on Climate Change Impacts. University of Wisconsin-Madison. The Wisconsin Initiative on Climate Change Impacts (WICCI) is a statewide collaboration of scientists and stakeholders formed as a partnership between UW-Madison's Nelson Institute for Environmental Studies and the Wisconsin Department of Natural Resources. WICCI's goals are to evaluate climate change impacts on Wisconsin and foster solutions.
4. From the Ground Up: How Land Trusts and Conservancies Are Providing Solutions to Climate Change – a 2022 report from the Lincoln Institute of Land Policy that shows how land conservation organizations in the U.S. and abroad are partnering with the public and private sectors to provide land-based solutions to the climate crisis.
5. Wisconsin Academy of Sciences, Arts & Letters. Climate and Energy Initiative. Through the Climate & Energy Initiative, the Academy seeks to understand and address Wisconsin's role in global climate change and explore diverse, sustainable energy choices.
6. Wisconsin Interfaith Power & Light. If you are interested in how people of all faiths can come together to slow down climate change, this is a good resource for you.
7. La Crosse Climate Action Plan Resources The City has developed tools to help La Crosse residents and businesses in taking action to build climate resilience and reduce greenhouse gas (GHG) emissions, including the Action Toolkit and Climate Action Guides.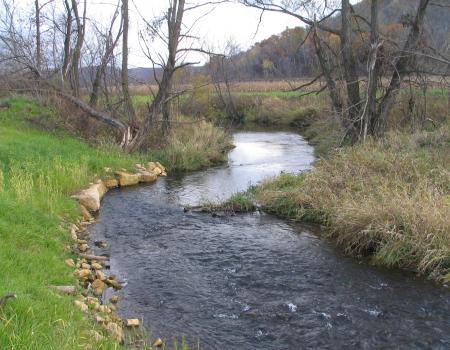 Climate Action Plan
Saving what we cherish, together.
We invite you to view Mississippi Valley Conservancy's Climate Action Plan. It gives greater context to the conservation work we've been doing for 24 years, and it spells out our climate-related priorities as well as opportunities for you to get involved.