The Challenge is YOURS!
Trail Trek Challenge is a FREE year-round
hiking program for everyone.
SIGN UP TODAY! REGISTRATION IS AT THE BOTTOM OF THIS PAGE.
About the Trail Trek Challenge
The Trail Trek Challenge is a year-round hike/walk program on the nature preserves you've helped protect in five counties of Wisconsin's Driftless Area. Challenge yourself to hike at least five of the trails to discover nature's treasures and become eligible for some great drawing prizes! Send in your hike log by April 15, 2022 to be in next year's drawing for prizes!
Bring friends or go solo. The Trail Trek Challenge lets you walk when and where you choose.
When you sign up, you'll receive a confirmation email with a link to your downloadable Trail Guide & Hike Log with hike descriptions and a place to record your hikes throughout the year. Downloadable trail maps and driving directions to each hike location are available below. As a registered participant, you'll also receive our Hike-of-the-Month feature by email each month.
SAFETY NOTICE: Please note that Wisconsin's gun hunting season for deer is November 20-28 and hunting IS allowed at most of the nature preserves. We recommend that you do NOT do hike on the nature preserves during that week. If you do go on the properties that week, or during any hunting season, we recommend wearing a high-visibility vest and hat.
Trail maps and treasure hunts
Trail maps and discovery challenges called Find Nature's Treasures can be viewed and downloaded from the Nature Preserves section of this website. Each nature preserve listing on the website indicates whether the property is part of Trail Trek Challenge. You can also refer to your Trail Guide & Hike Log for a list of trails included in the Trail Trek Challenge (You'll receive a link for that by email right after you register). 
Hike of the Month
June 2021 – Greens Coulee/Savannah Oaks
July 2021 – Borah Creek Prairie
August 2021 – Tunnleville Cliffs
September 2021 – La Crosse Blufflands South - Hass Tract 
October 2021 – New Amsterdam Grasslands
November 2021 – Hike of the Month
Trail condition updates & reminders
If you come across a muddy trail, please GO BACK. DON'T GO AROUND. Going around muddy areas on the trails only makes things worse by damaging sensitive habitat.
Trails are currently CLOSED at Boscobel Bluffs due to tornado damage. If you'd like to volunteer with clean-up, visit the Boscobel Bluffs page on this site for details.
Some of the well-drained prairie preserves, such as Holland Sand Prairie and New Amsterdam Grasslands and Tunnelville Cliffs are good options when other trails are muddy.
REMINDER: Dogs are not allowed on the majority of the Conservancy's nature preserves. Please see the downloadable trail maps for details about recreational use policies at the nature preserves you plan to visit.
COVID-19 UPDATE
Protect your health and community health when outside of your home. Always practice physical distancing, and follow the current guidelines of your local government or the federal Centers for Disease Control, whichever are more restrictive. 

We thank these generous supporters of the 2021-2022 Trail Trek Challenge
Franciscan Sisters of Perpetual Adoration, JF Brennan Company, Organic Valley, People's Food Cooperative, Gundersen Health System, Mayo Clinic Health System, Trust Point, Inc., Altra Financial Advisors, Viroqua Area Foundation, Verve–a Credit Union, Extreme Driftless LLC, WKBT/News 8 Now, Dairyland Power Cooperative, La Crosse Public Library, Mid-West Family La Crosse, 4imprint.com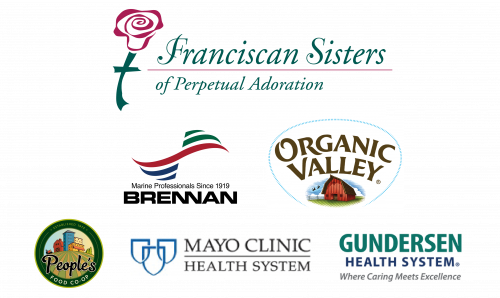 Sign up below for the 2021-2022 Trail Trek Challenge
One participant per entry, please. Multiple entries may share the same email address.
​Photo courtesy of William Petersen