February 16, 2019
10:00 a.m.
Location
Romance Woods Nature Preserve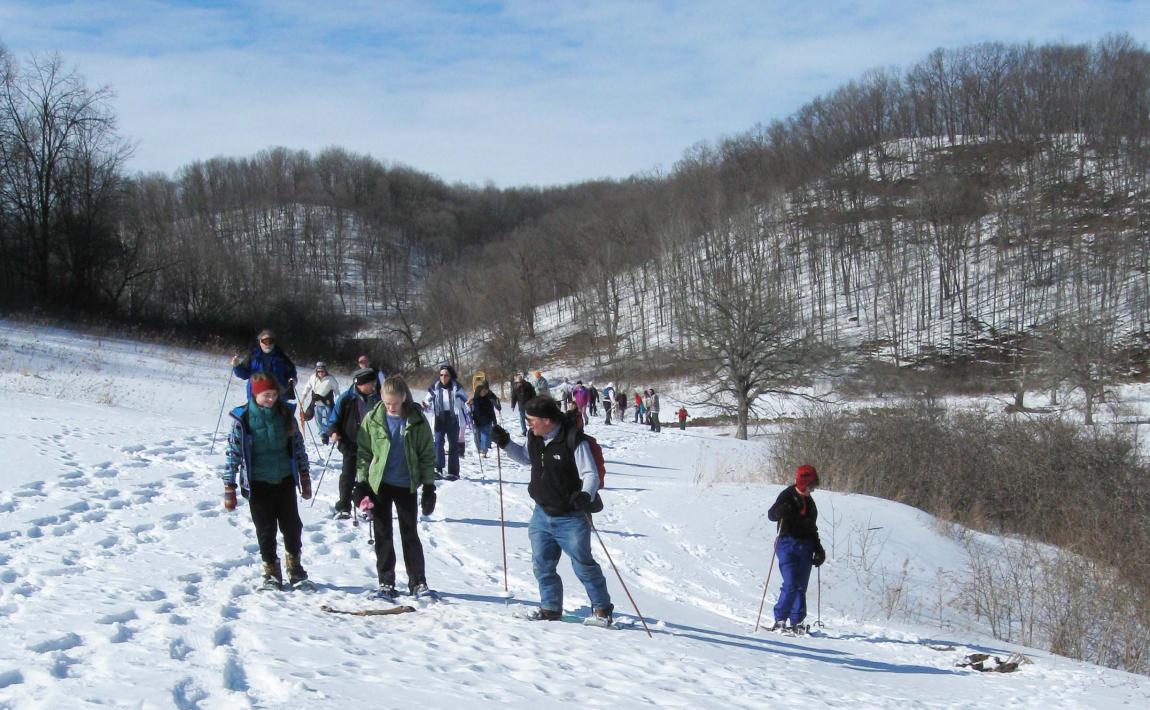 You'll fall in love with the beauty of winter as you hike on snowshoes through Romance Woods Nature Preserve. Even those who've never been on snowshoes, will have a chance to give it a try. It's easy and fun, and there will be a limited number of snowshoes available on loan at this "Linked to the Land" event.
The family-friendly snowshoe hike will begin at the trailhead at Romance Woods Nature Preserve. Staff and volunteers will be available to help with snowshoe basics. With a healthy wildlife population in this nature preserve, there should be plenty of tracks to see and identify in the snow. The winter landscape offers a unique view that is often spectacular.
Romance Woods Nature Preserve, owned and protected by Mississippi Valley Conservancy, includes 35 acres of scenic, diverse oak woodlands, rocky dolomite outcrops and an ephemeral stream. The land supports healthy populations of white-tailed deer, wild turkeys, and other wildlife available to provide hunting and trapping opportunities for the public. A former logging road runs the length of the property, providing an excellent trail for public use for hiking, snow-shoeing and cross-country skiing. The property also provides potential habitat for numerous non-game species such as Neotropical migratory birds, and other native animal and plant species.
RSVP's are required to reserve snowshoes for this free event (available on a first-come-first-served reservation basis). Snowshoe size is based on body weight. RSVP's from all who plan to attend are appreciated. RSVP by email to [email protected] or call 608-784-3606 ext. 6
WHAT TO WEAR: Wear boots and dress in layers appropriate for winter weather.
February 16, 2019
10:00 a.m.
Location
Romance Woods Nature Preserve
Directions
From Viroqua: Head west out of town on Highway 56. Turn right onto N Ridge Road. (12 miles)
From La Crosse: From La Crosse head 15 miles south on Hwy 35/Great River Road to Genoa, WI. Take Hwy 56 east for 5 miles and turn left onto Newton Rd/Romance Rd and continue to follow Newton Rd and take a slight right onto N. Ridge Road.