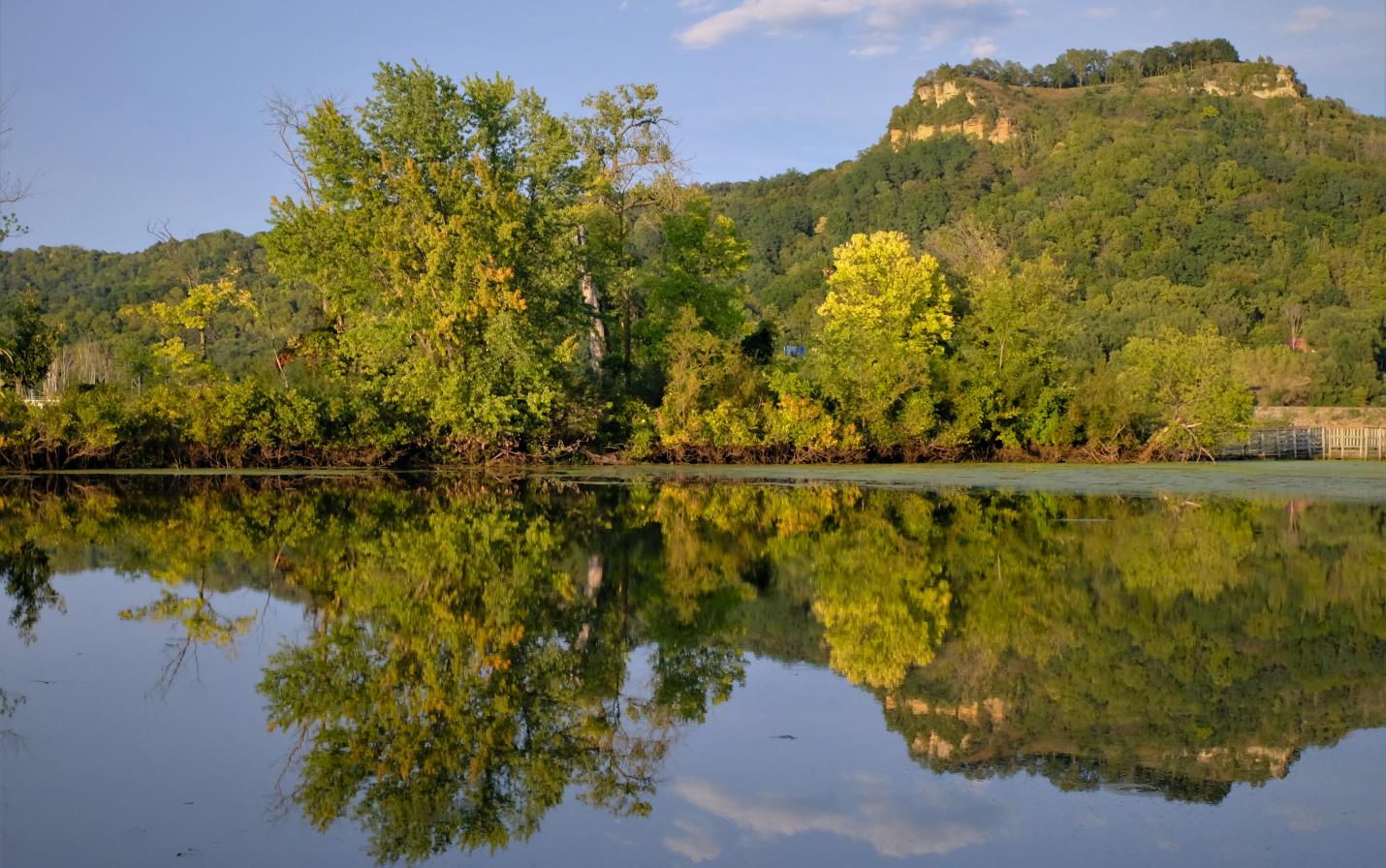 Philanthropy helps fund solutions to widespread problems all around the world. It also plays an important role here in the Driftless Area, where we face some global challenges on a local level. Among those challenges are threats to the prairie, wetland, and woodland habitats that sustain diverse natural communities and serve many beneficial roles for all of us.
In the Driftless Area, the primary causes of habitat loss include development, mining, increasingly extreme weather conditions, and unsustainable forms of land management. While generous member support funds most of Mississippi Valley Conservancy's operating costs, much more is needed to fund the major land acquisitions necessary to protect wildlife corridors, unique landscapes, water sources, and threatened species. Additional funding is also needed for some of the major habitat restoration projects necessary to build the resilience of the land in this time of climate change.
Over the past 24 years, the Paul E. Stry Foundation has granted nearly a million dollars to the Conservancy for land acquisitions, restoration projects and equipment, and education projects. The foundation's first donation to the Conservancy, back in 1998, funded the purchase of a copier and a file cabinet for maps. In the years since, the Foundation has helped fund such major acquisitions as tracts of land in the blufflands of La Crosse, Onalaska, and along the Mississippi River spanning from Buffalo County to Grant County, as well as properties with imperiled habitats such as Holland Sand Prairie, New Amsterdam Grasslands, and Kickapoo Caverns, to name just a few. Many of these land projects protect us all by helping to naturally slow flood waters, supporting biodiversity, and storing carbon.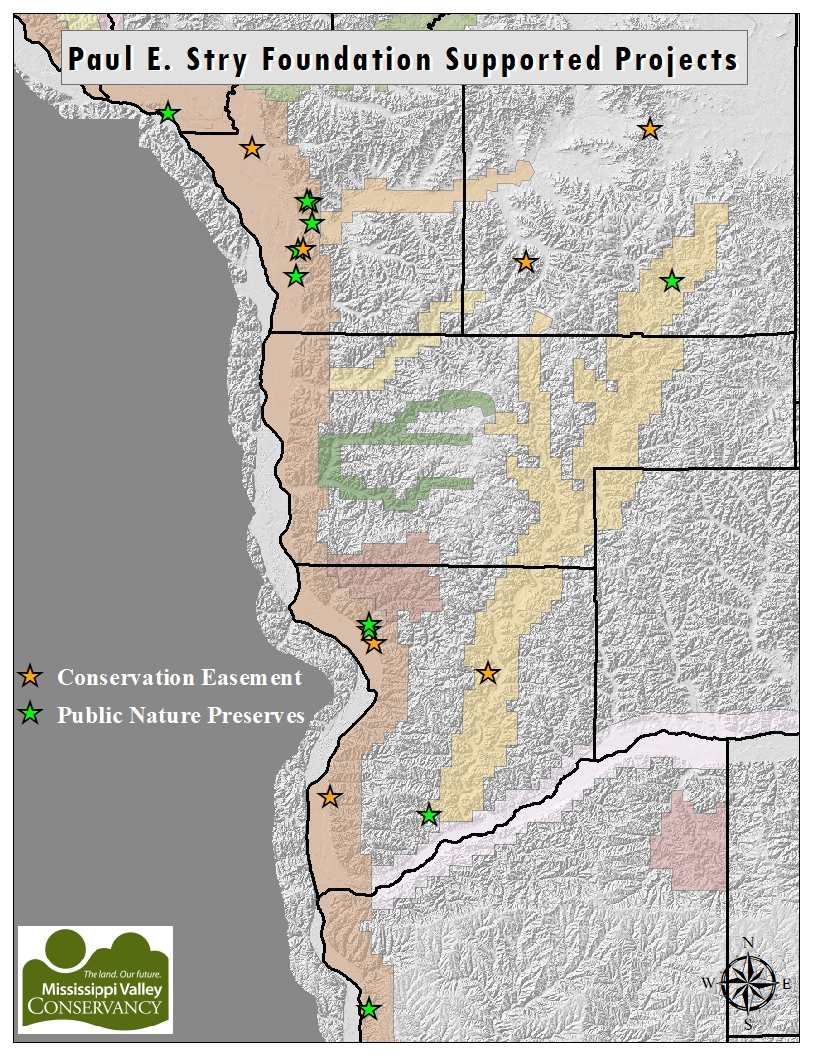 Major habitat restoration projects, including the La Crosse Blufflands Restoration project and the purchase of restoration tools and equipment were also supported by the foundation. Even some of the Conservancy's major education projects, such as "Mysteries of the Driftless," were made possible with support from the foundation.
The foundation was created by the will of Paul E. Stry (1922-1987). Stry was born in La Crosse and graduated from Central High School in 1940. He received his bachelor of science degree from UW-Madison and went on to work for the government as a meteorologist at Indianapolis, Detroit, and Waterloo airports. Upon retiring in 1979, he returned to La Crosse to take on the stewardship of his father's 5-acre property which was believed to have been called "hugelheim" (house on the hill) by his father.
Stry was a member of the local Sierra Club chapter and heard a presentation by the Director of Norskedalen, Bob Swartz, about the origins of that project.  He approached Swartz to see if Norskedalen could use a walnut tree to be moved from his property.  As there were already walnut trees at Norskedalen, Swartz suggested perhaps one was needed on the UW-L campus. He contacted Biology Dept. Professor, Eileen Temte, who indicated there currently were none and one would be useful for her plant identification classes. Swartz worked with the UW-L Physical Plant staff to get a tree-spade and move a tree onto the campus.  Subsequently, Stry sent a Christmas card to Swartz, thanking him and mentioning that he liked to think of a young couple sitting in the shade of the tree and planning their futures. A plaque was later placed by the tree to commemorate the gift.
Knowing he was ill, Paul met with his attorney, Robert Skemp, Sr. and directed him to create the Paul E. Stry Foundation in his will. He directed that about 10% of the income from his estate go to several specific charities but that 90% of the income should go to the maintenance of his property, on the outskirts of LaCrosse, as a nature preserve.  (Subsequently, two adjacent properties were acquired to expand the preserve.)
Because the income from the estate became greater than the amount needed to maintain the property, the foundation obtained a "Construction of the will" from the courts to make grant awards to like-minded organizations and environmental efforts. To date, those organizations have included Mississippi Valley Conservancy, the land management crews of the Wisconsin Department of Natural Resources, local schools and colleges, and several park projects in La Crosse, including the expanded band shell. Indeed, his hopeful vision for the walnut tree has now provided such opportunities for thousands of people to spend time in nature with an eye toward the future.
Gathering Waters, Wisconsin's alliance for land trusts, recently announced its 2021 Land Conservation Leadership Land Legacy Award is going to the Paul E. Stry Foundation. The Land Legacy Award honors the foundation's generous support of Mississippi Valley Conservancy, and its dedication to protecting and restoring the natural environment in La Crosse and the surrounding Driftless Area, as well as supporting various youth environmental education efforts. View the award presentation video.
"Some of the area's most beautiful nature preserves are protected and managed with generous support from the Paul E. Stry Foundation." said Carol Abrahamzon, the Conservancy's executive director. "When we enjoy breathtaking views, cold streams, amazing wildlife, and memorable hikes at Conservancy nature preserves, we can all be thankful to the Stry Foundation for helping to conserve those places for us and for future generations. While Paul Stry originally intended to protect a single property, his legacy is in protecting thousands of acres and the natural services they provide to all of us."
Top photo: Miller Bluff in the La Crosse Blufflands with reflection on the La Crosse River Marsh. Courtesy of John Sullivan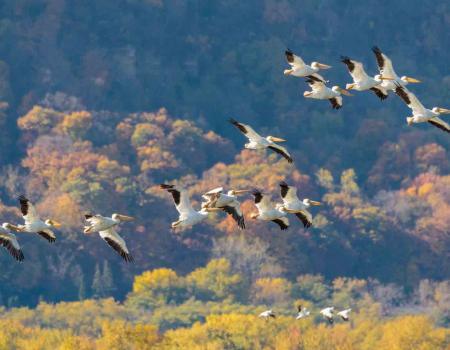 Your Conservation Legacy
There are many ways to protect what you love
You can make conservation part of your legacy with a tax-deductible gift of any size. There are many ways to give – volunteering, becoming a member, donating stock, becoming a sponsor, or planning a gift for the future. Let us know how we can help you.