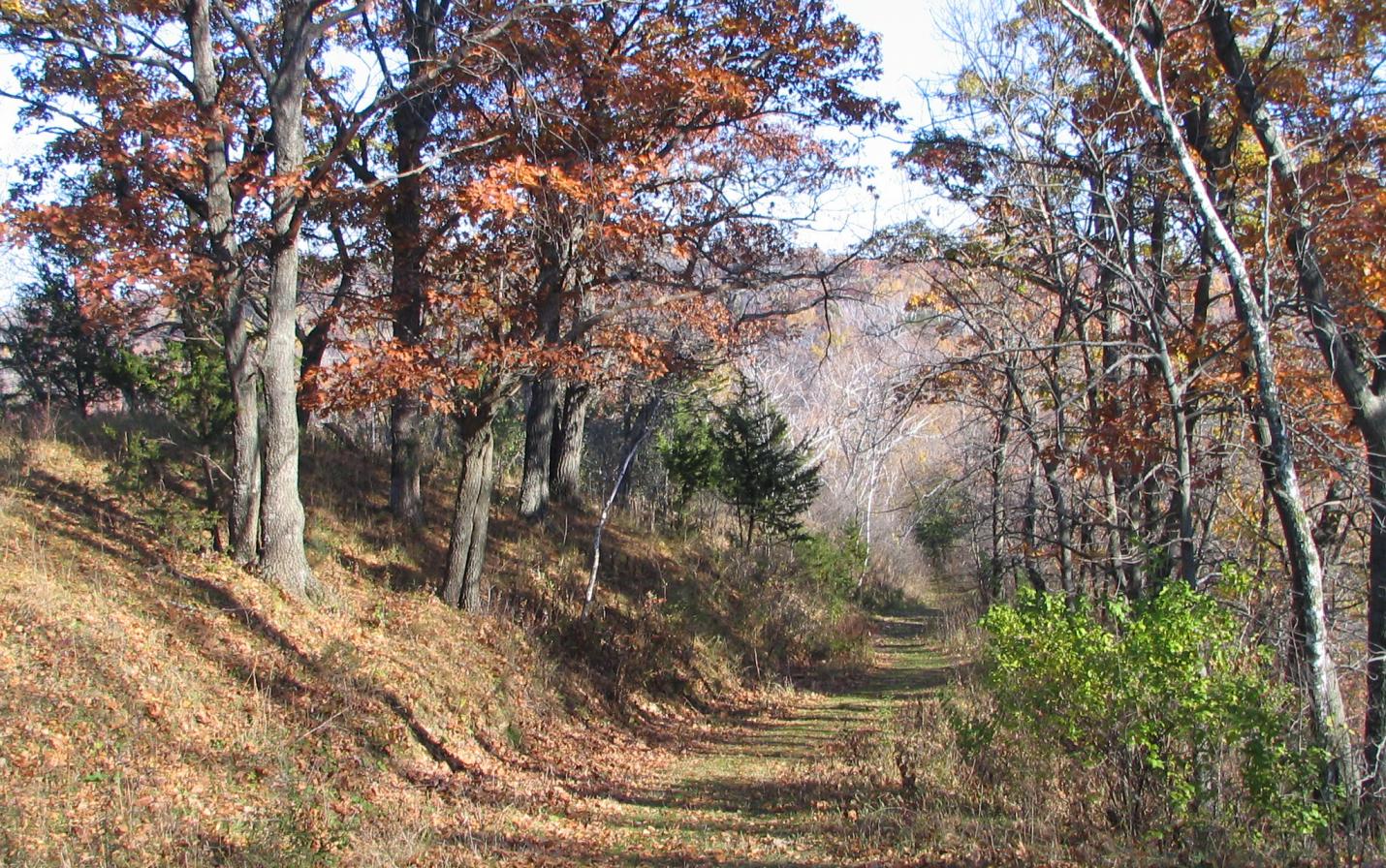 One of the buzz words that we hear often today is mindfulness, or the practice of "being in the moment." This practice takes a designed effort. For example, every morning I walk my dog – usually the same route – and so it is easy to complete the walk and never really know what I have heard, seen or smelled. But if I remind myself to look at a bush, or a tree or even a neighbor's yard as if I were the first time, and to examine that bush more closely and carefully, I can always see and learn something new.
I hiked the Greens Coulee—Savanna Oaks Trail near Aspen Valley, Onalaska, with my friend David Skoloda in January. I knew this trail because I lived near the trailhead for several years, and regularly trained on it. But I had never hiked the trail with snowshoes before, and I am definitely not skilled at tramping through heavy snow wearing cumbersome "flip flops." But the snowshoes allowed us to hike the fairly steep trail with relative ease, and they gave us the capability of getting to a mushroom-shaped rock formation at the top of a ridge.
I returned alone to Greens Coulee twice more: once with my son and grandson after the first official day of spring, and then a few days later by myself after the novel coronavirus complicated life in the Mississippi Valley. Access to the trail is simple, and off-road parking can accommodate six or seven cars. The trail is wide and well groomed by hikers' frequent foot traffic. The primary trail to the top is steep, and there are few flat places catch your breath. There are several side paths marked by signs: Garland Meadow Trail, Loggers Loop Pierce Path, Humfeld Summit Loop. The trail is great training for experienced hikers, but if you take a three-year-old grandson along, be prepared to carry him at least partway on your back!
The trail is co-maintained by the City of Onalaska, and so unlike other MVC trails, the Greens Coulee Trail has benches along the path as well as signs that identify the trees, wild flowers, and wild animals living here. At the summit, there is even a picnic table and fire pit in an open grassy area – perfect as a lunch site.
By late March, the snow had melted, the trail was clear, but there were few signs of spring. It was a different and new experience. It reminded me of the value of hiking in different times of the year – the trail may be the same, but the senses are alerted to different smells, sights, and sounds at each turn of the season. On my third hike of Greens Coulee I took Becky Cushing's advice from the Massachusetts Audubon Society and attempted "forest bathing" or guided meditation.
First of all, I took my time on this hike, no hurry to get to the top. I wasn't training for a more challenging hike nor distracted by my grandson's excitement or by other hikers taking a break from being confined indoors. Even before I got tired I stopped, looked around for a few minutes, closed my eyes to hear and smell things I might have missed with my eyes open, emptying my mind of the ominous pandemic news reports. Earlier in the week I had heard a conversation between two male red wing blackbirds. I suspect one male was chasing the other from his territory. I also saw two mated cranes fly overhead, both engaged in "unison calling" – a synchronized and complex duet – signaling encouragement? direction? On this day I heard only quiet.
Even though I had just recently made this hike, I approached it this time as if it were my first attempt. I made mental notes to identify those nasty invasive prickly ash that can make hiking off trail hazardous. Native people and early settlers, however, called the ash the "toothache tree" and parts of the plant were used for medicinal purposes including a salve for a rash. I also looked carefully at the Japanese barberry bush. This invasive plant is used in private and commercial landscaping, but its beauty hides potential danger. Rodents use the plant as a nesting area, and ticks find protection in the bush.
I attempted to walk more quietly, with less urgency, content to make myself a part of the landscape instead of apart from it. I cannot say that I was able to divest myself completely from the world's cares, but for brief periods I eased the stress and anxiety I had felt earlier in the day. Because we spend so much of our time in offices, in classrooms, in clinics and homes, we forget that being in nature is ingrained in our DNA. By returning to the ancient act of walking through the woods, we heal ourselves, body and soul.
When Dave and I hiked Greens-Coulee in January, we did not speak of COVID-19. If it was in the news, it was something that did not yet greatly concern us. Three months later, the virus is pervasive throughout the world causing a dramatic change in how we see ourselves in a world that is undeniably interconnected and interdependent. Hiking Greens-Coulee gave me a chance to remember what is important in life. I reflected on the balance I need to thrive – a balance of the wild with deadlines, department stores, traffic lights. I reminded myself of my commitment to protect our natural resources, to preserve areas that nourish the spirit. I remembered my grandson's delight as he explored this natural world. I hope I introduced him to the values we demonstrate as we navigate the challenges before us.
Grant Smith is a retired Viterbo University English professor.
Learn more about the Greens Coulee–Savanna Oaks and download a trail map.
Sign up for the Trail Trek Challenge.