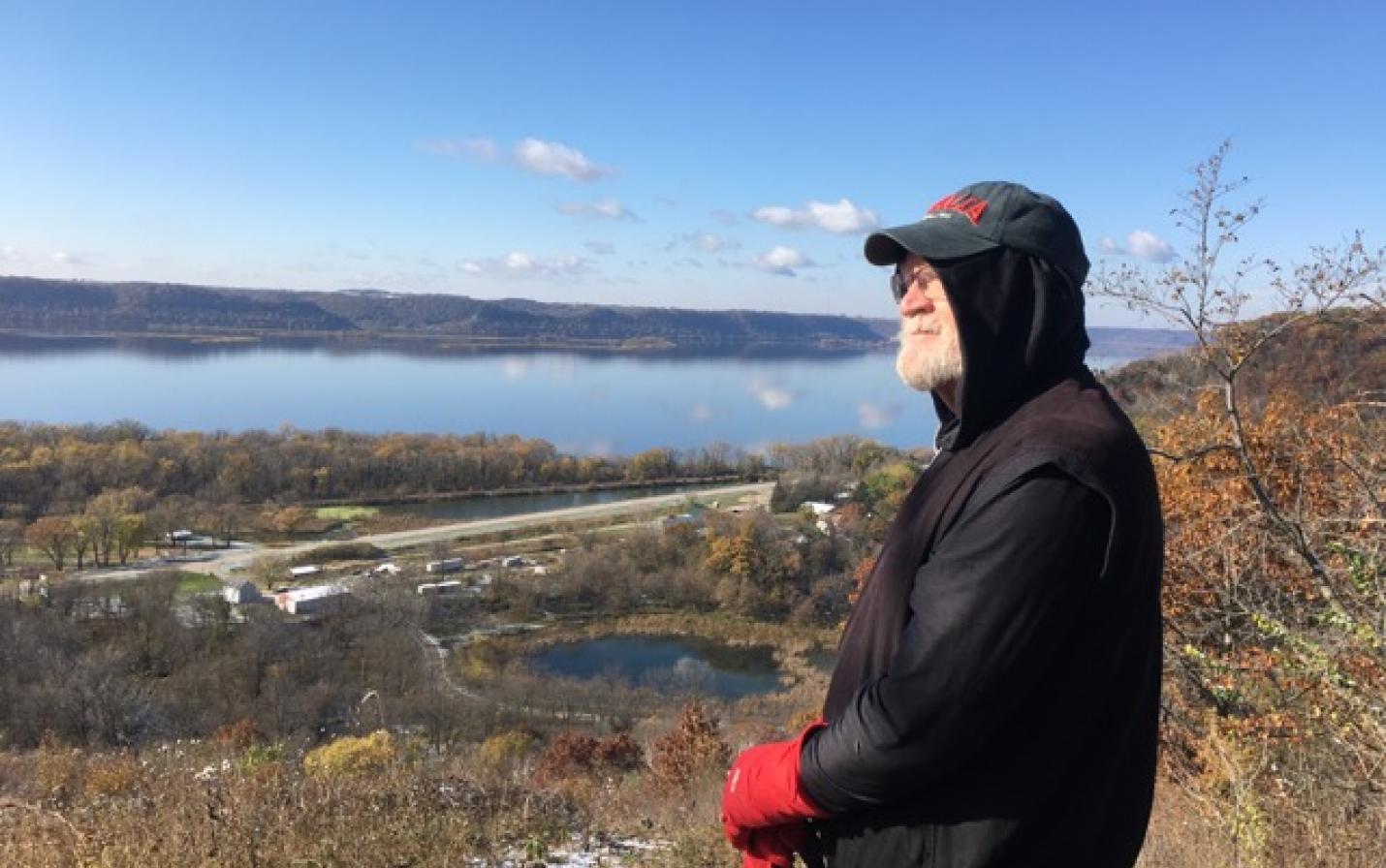 November 3, 2019
Sugar Creek Bluff
State Natural Area
Crawford County, Wisconsin
I took advantage of perhaps the last sunny day of the fall to hike the Sugar Creek Bluff trail to the goat prairie overlook south of Ferryville, Wisconsin. The forecast was for one to three inches of snow later that same evening, and I wasn't sure I would have another chance to hike the trail this season unless I wanted to use snowshoes.
Dave Skoloda and I hiked the bluff a few weeks earlier. Dave, one of my tennis partners and a member of the Mississippi Valley Conservancy board, had invited me to hike all of the Conservancy trails, and then to write a brief narrative of each trail. The goal was to educate the public of the numerous trails on Conservancy land, and to provide a brief description of travel directions, terrain, and difficulty. The Sugar Creek Bluff State Natural Area, a 440 acre preserve in Crawford County was purchased by MVC in various tracts over the years starting with 70 acres in 1999. Dave said it was the first tract of land purchased by the Conservancy; hence, he thought it was appropriate that I begin my narratives with this 1.5 mile trail.
It wasn't difficult to accept Dave's invitation. I enjoy hiking. I have hiked to the high point of all 50 states (close enough with Ranier and Denali). I have hiked the Inca Trail, the Grand Canyon rim to rim, and numerous national parks in the West. Earlier this year I reached the summit of Kilimanjaro in Tanzania. I "trained" for Kilimanjaro on the bluffs near where I live off County Highway B. I hiked up and down Brady's Bluff two or three times in a morning, up and down the Hixon Forest trails another morning, and other bluffs on other days. But even though I have lived in Wisconsin for more than 25 years, I had never really become acquainted with the hiking trails this state has to offer, and so I saw Dave's challenge as motivation to explore the Driftless region.
Environmentalist Terry Tempest Williams suggests that the idea of a "home" is central in defining us as human beings. Home is where we have a history of bluffs and rivers and white-tail deer, eagles above the Mississippi, acres of corn and pasture land. Williams says that if we are rooted in a "place," then we recognize the patterns of life around us and we awake to the changes, the shifts, the loss within the community. By staying home, we gain an understanding that all life forms are a part of a community – our home. If no one is rooted to this neighborhood, then who will chart the changes? Ultimately we commit to "dig in," to become accountable for all life forms, and to engage in preserving the environment. This morning I took off in my car to (dis)cover where I lived. I began my acquaintance with my home.
It took 75 minutes to drive from my home outside of La Crosse to the Sugar Creek Bluff trail head. A person can never tire of the drive from La Crosse on Highway 35 to Prairie Du Chien. I could not help but note the contrasts. On my left, the rugged bluffs, rock formations, oaks and walnut, still with their fall colors, orange and brown. On my right the railroad separating me from the Mississippi and the Minnesota bluffs. On my left Wisconsin villages: Stoddard, Genoa, DeSoto. On my right, evidence of the severe flooding the region experienced – the swollen Mississippi River.
The Sugar Creek Bluff trail is not challenging. I can imagine parents and grandparents with children enjoying the .75 mile (one way) hike (no bikes, no dogs) on what was once a logger's road. There is sufficient parking at the trail head located about a mile from HIghway 35 on North Buck Creek Road. Mature oaks line the grassy path, and the trail ends at a goat prairie with a stunning vista of the Mississippi River.
I learned a lot about this section of the Badger State on my day of exploration, how to use the tree's bark to distinguish the difference between a red, black, and white oak. Dave told me to look for "invasive species of plants:" buckthorn, honeysuckle and garlic mustard. I saw the destruction of erosion from heavy rains.
I visited the Great River Road Interpretive Center on my way back to La Crosse. The center is free admission, open all year, and has historical exhibits, aquariums, walking trails and a seasonal bookstore. I stopped at the Genoa National Fish Hatchery for a self-guided tour. The national fish hatchery was established in 1932 to conserve, protect and enhance fish, wildlife, plants and their habitats. Genoa raises several sport fish: small and large mouth bass, walleye, black crappie, yellow perch and blue gill; Genoa is comprised also of wetland areas which provide natural habitat for wildlife.
If you spend a day in the Sugar Creek Bluff Area, stop at the Historical Points along Highway 35. Learn about the First Battle of Bad Axe in 1827. Learn why De Soto is built over an Indian cemetery, and what French and Indian War battle was fought there. Learn about Battle Hollow, Battle Island, and Head of Battle Isle. Take time to explore the Old Tool Shed Antiques in Genoa, and if you don't pack your own lunch, stop at the Sportsman Bar and Grill in Ferryville for soup and a fish sandwich.
"Oikos" is the Greek word for home. From "oikos" we get "ecology," literally the study of our home. The landscape along Highway 35 took on a different meaning when I ceased seeing it as simply the distance between La Crosse and Prairie Du Chien. When I saw the land as where I now reside, my home, I gained a reverence for those natives who dwelled here centuries ago, for the wildlife: plants, animals, fish that are protected in the designated Mississippi Valley Conservancy areas. I realized that I am a temporary inhabitant of the land. With the efforts of the Conservancy and countless volunteers, the land will endure years for others to learn about this home we call Wisconsin.
Grant is a retired Viterbo University English professor.