World leaders meeting in Canada recently took action that adds urgency to work that's been part of the mission of La Crosse-based Mississippi Valley Conservancy since it was started 26 years ago. The leaders at the Convention for Biological Diversity - Conference of Parties 15 (COP 15) in December agreed with scientists that to protect the world against the threat of global extinction for all species in all ecosystems the world needs to protect some 30 percent of the earth's biodiversity by 2030. And that, of course, includes the ecosystem we call home — the Driftless Area of southwest Wisconsin where the Conservancy works in a nine-county area to protect land, which is one of the best ways to support species that may be endangered.
Global ecological scientists have warned that not since the loss of the dinosaurs has there been this level of extinction and if humans do nothing to change the way we live, the rate of risk for all species will go up ten-fold by 2050. That means humans as well as other life we share the planet with today.
As an individual you may think what can I do? To that, I say, the work is more than setting targets at a global scale; it must be done on-the-ground at the local level. And our Driftless Area of western Wisconsin is a hallmark region that deserves protection and conservation, especially now, with its unique karst topography, cold-water streams, dozens of uncommon species of reptiles, amphibians, fish and plants, plus North America's largest river, the Misi-Ziibi (Mississippi). That's where the Conservancy's role is key and where support from individuals can make a difference.
Conserving wild or restored lands is one of the best ways to support species that may be on the brink of collapse and ensure species that are currently abundant remain in that condition. Forward thinking conservationists urged legislators to establish the Knowles Nelson Stewardship Fund (KNSF) in 1989 on a bipartisan vote to conserve land and provide more opportunities for people to connect with nature. Strongly supported in the early days, it is now often on the chopping blocks as a frivolous program. Yet, the program is one of Wisconsin's best mechanisms to conserve land for human enjoyment, provide protection for Wisconsin's varied habitats, plants and animals and fight climate change by locking up carbon. We must remind our state legislators over and over again, keeping this program strong will support global biodiversity from our part of the planet, adding to the global goal tally.
Funding from KNSF is managed by WI DNR, providing funding for them to purchase land from willing sellers for state parks, forests and wildlife areas, plus support local land trusts with similar conservation missions. There are 56 land trusts in Wisconsin, each of varying size and different geographies. Fortunately, Gathering Waters is a Wisconsin state organization that provides foundational management, legislative policy support and coordination between these land trust organizations. Collectively, both public and private conservation will help to add to the global goals for 2030.
Partnering with private landowners, MVC is working to conserve land through purchase, conservation easements, and other programs to manage the land for long term ecological benefits for the public, landowners, and nature. Through the years MVC has received grants from KNSF many times, which has helped to achieve conservation on over 25,000 acres in 25 years, to support local biodiversity in western Wisconsin.
As the incoming MVC Board President, I represent a volunteer policy board and professional staff who are deeply committed to land conservation. We know there are many ways people can support MVC or other land trusts around the state by volunteering, fiscal support, and using your voice to support the policy and funding from state and federal conservation programs. Together, we can help add to the global tally of saving 30% of the planet's biodiversity through habitat protection and management and reverse the loss of life and habitat for all life on the planet.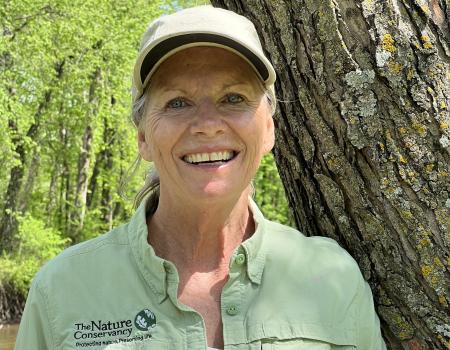 About the author
Gretchen (Benjamin) Pfeiffer has worked in conservation for more than 39 years, including 25 years with WDNR and now with The Nature Conservancy. Her work has focused on restoration of the Mississippi River and other large rivers around the US and internationally. She is a founder and incoming Board President of Mississippi Valley Conservancy.