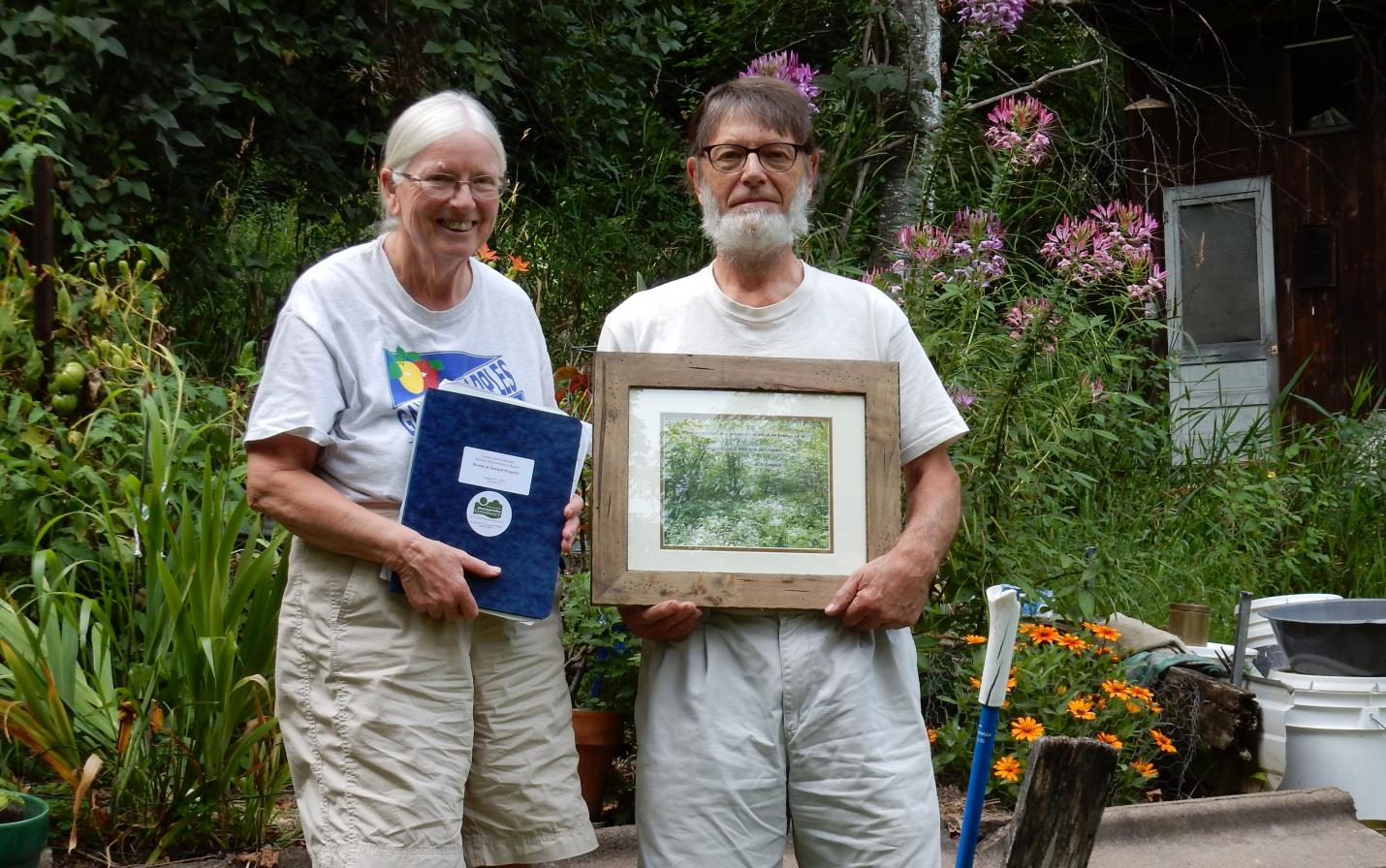 GAYS MILLS, WI—Ellen Brooks and Dave Hackett have lived a sheltered life for some 40 years – sheltered by the woods and east-facing hill that rises from the homesite on their 37-acre property near Gays Mills.
Sheltered as well has been the wildlife that dwells in this area of "continental ecological significance," according to the state's Wildlife Action Plan. The oak woodlands on their land provide habitat for many trees and other plants as well as the state-threatened hooded warbler, cerulean warbler, and Acadian flycatcher, according to a study of the property by Mississippi Valley Conservancy staff.
The couple has decided to make that habitat sheltering permanent with a conservation agreement with the Conservancy. The agreement, a conservation easement, provides permanent protection from future residential development, subdivision, or mining of the property.
Dave said he takes pleasure in the way the land, an entire draw, has both north and south facing slopes -- red oak on the north-facing slope and white oak on the drier south-facing slope. "I like being held by nature," he said with a smile. He noted that the land above them is being managed, some of it restored to prairie, by the Wisconsin Department of Natural Resources as part of the Kickapoo River Wildlife Area.
The couple reflected on their decision on a sunny spring morning recently. We were socially distanced in our lawn chairs under one of the maples they planted as a sapling that now towers over their home. Dave and Ellen built the home in 1983 from salvaged building materials with help from friends. A rose-breasted grosbeak sang from a perch nearby and chickadees, nuthatches and the grosbeak visited a table where a few sunflower seeds had been scattered. A wild turkey gobbled in the woods.
They don't have children and "we definitely didn't want someone to buy it and make a mess of it." Dave paused and added, "from our point of view."
Dave and Ellen met while attending Macalester College and lived for a time in a commune in Saint Paul, MN. When friends in the group sought a place where they could all work together, the suggestion of apple picking brought them to an orchard in Gays Mills. They stayed and added work at the state tree nursery in Boscobel to their income sources. Dave also plays piano for a program at Pleasant Ridge Waldorf School in Viroqua.
Abbie Church, MVC conservation director, said protection of the land is significant because it expands a wildlife corridor due to the proximity to the adjacent state-owned land and other lands protected by the Conservancy, some 2,300 acres of contiguous protected habitat.
Carol Abrahamzon said, "These protected corridors are growing ever more important for climate resilience as native habitats and species are lost to development. Their contribution to protecting native habitats will last forever!"
Ellen said one of their favorite features of the land is a spring about a quarter mile back in the woods. It flows downhill for a while and then disappears back into the ground.
Dave said that managing the land has never been a difficult task; he cleans out an invasive species such as multi-flora rose or garlic mustard when he finds it. "But the land pretty well takes care of itself," he said. He still has to cut firewood since they heat with wood.
For years the couple has monitored water quality in the Halls Branch trout stream nearby. And Ellen is vice president of the Crawford Stewardship Project, which, she said, works to protect the area from pollution threats of extractive industries and to preserve the beauty and natural resources of the county and area.
Krysten Strong, MVC conservation specialist, said, "It is truly inspirational to spend time with Ellen and Dave, who have chosen to make the protection of their land a priority even in an economically difficult time."