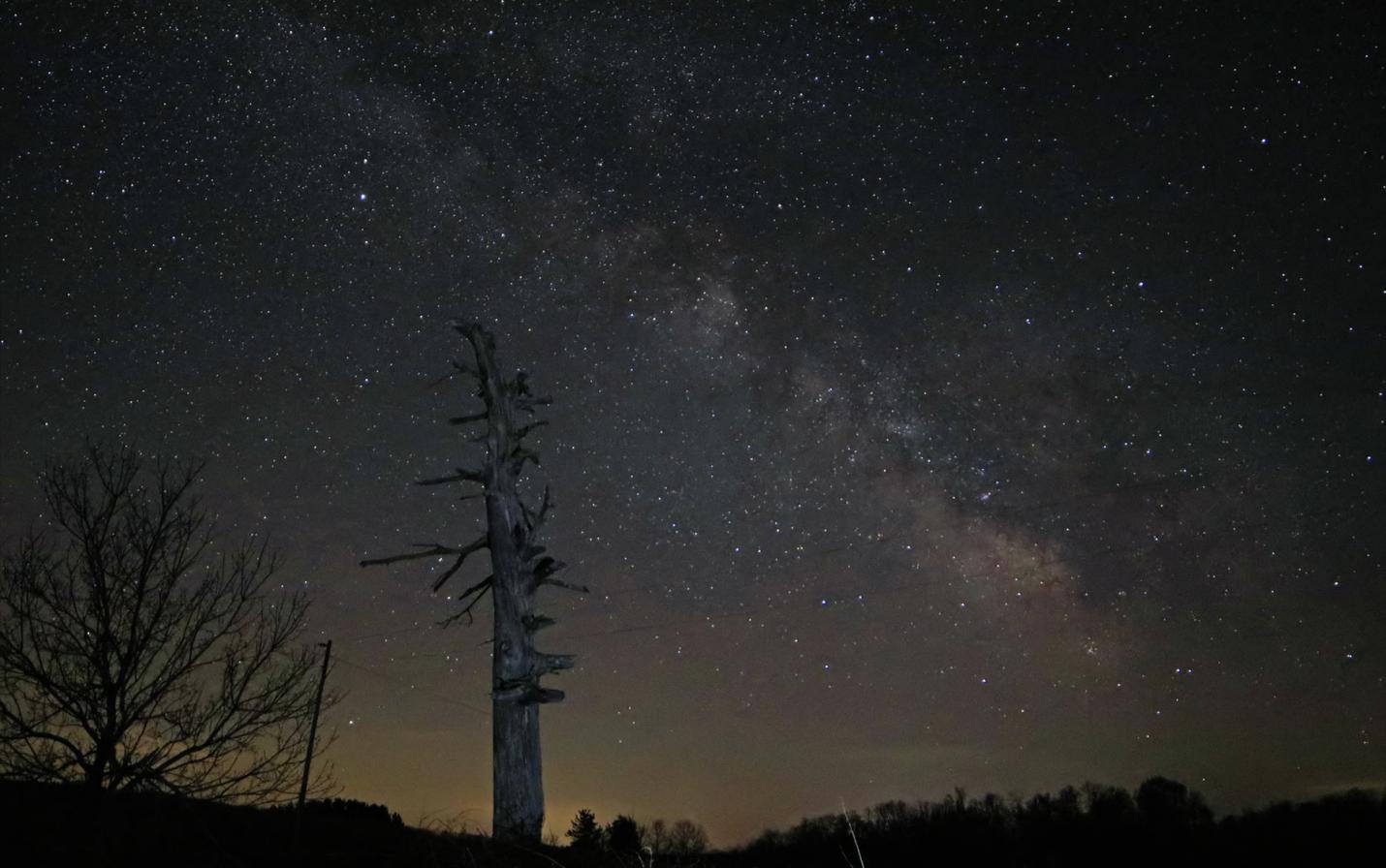 On September 25, I had a wonderful evening hiking the ridgetop trail of Tunnelville Cliffs. Kickapoo Valley Reserve astroeducators Susan Cushing and Barbara Sarnowski led a group of twenty trekkers on the Evening Sky Prairie Walk. I was on a mission with my Unihedron Sky Quality Meter to measure just how dark the sky was for our application to the International Dark-Sky Association to be designated as an International Dark Sky Park. The Kickapoo Valley Dark Sky Park is a cooperative initiative by Wildcat Mountain, Kickapoo Valley Reserve, and Mississippi Valley Conservancy to create Wisconsin's next Dark Sky Park along the Kickapoo River in Vernon County and to preserve its starry skies for future generations.
As we entered the prairie after sunset, we were wowed to see the planets of our solar system emerging. Venus was brilliant in the southwest, Jupiter was dazzling in the southeast, and then Saturn softly emerged in the twilight. As the skies darkened even more, we were awed by the sight of our Milky Way arching the heavens. We could even spot our neighboring Andromeda Galaxy with just our eyes. Binoculars made it even better. It is something I would love for you to see for yourself by walking in the dark this month.
You will want to pick a park or country road away from city and town lights. I love wandering and trying new paths but not at night. Pick a familiar trail that you've walked by daylight. The North Entrance Hike at Tunnelville Cliffs at Husker Hollow Road is just perfect. The path is clear and follows the ridgetop of a goat prairie with spectacular views in all directions. I couldn't see any lights from neighboring homes, and the trees shielded us from the occasional headlights of cars passing along Tunnelville Road. If you need a little light, red or amber is best to give your eyes the best opportunity to adapt to the dark. Feel safe and have more fun by bringing along a companion or two. Maybe one of your geeky friends who can help you identify the birds you're hearing as well as other sounds of the night world. It was fun to see meteors streaking across the sky and to end the evening by lingering to watch the waning gibbous moon slowly rising in the east.
Sunset is around 6:45pm at the start of October and around 6:00pm at the end. It's a great time to experience twilight. The sky is fully dark about 75 minutes after sunset, so 8:15 on October 1st and 7:30 on Halloween. You can start even earlier in November, especially after November 7 when we let our clocks go back to natural time. New Moon is October 6, and you can see the Milky Way without moonlight interfering Oct 1-10 and Oct 23-31. A moonlight walk is also fun. The Full Hunter's Moon is October 19 and 20, and you can be soothed by the soft glow of moonlight in the middle of the month.
Don't forget to celebrate International Observe the Moon Night on October 16 when humans across the globe are encouraged to look up together and honor our connection with the Moon through stories and images and art. That night, brilliant Venus will be near ruddy Antares in the western sky while the waning gibbous moon, Jupiter, and Saturn will form a line across the southern sky. But whenever or wherever, I hope you are as refreshed as I was walking in the dark.
John Heasley is an astronomy educator and stargazer who enjoys connecting people with the cosmos. He volunteers with NASA/JPL as a Solar System Ambassador , with the International Dark-Sky Association as an Advocate, and the International Astronomical Union as a Dark Sky Ambassador. For more information about stargazing in southwest WI, like Driftless Stargazing LLC on Facebook and find out whenever there's something awesome happening in the skies. Driftless Dark Skies appears monthly in the Voice of the River Valley.
Photo of night sky at Tunnelville Cliffs nature preserve by John Rummel.