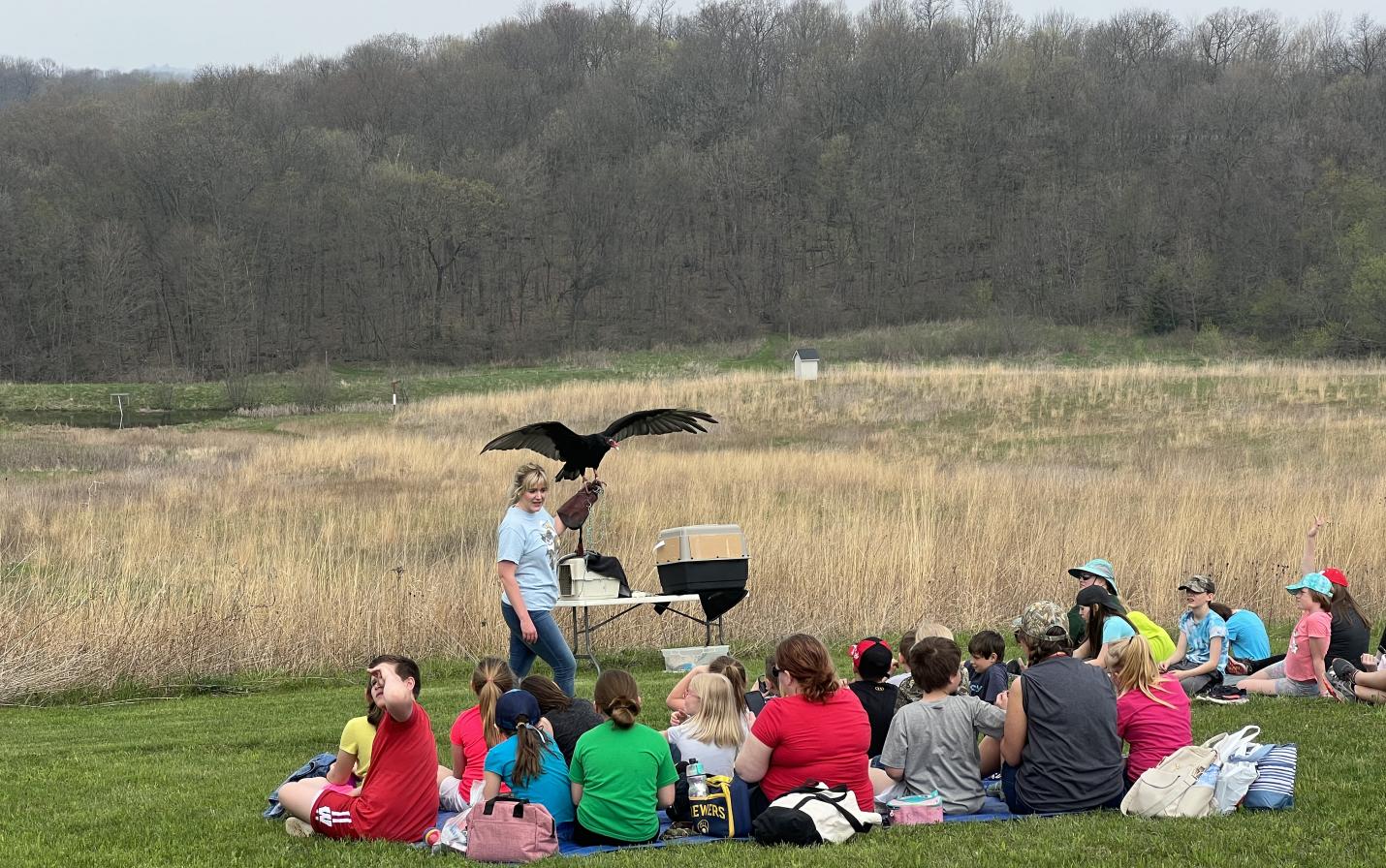 On a recent visit to conduct the annual monitoring of a property protected by Mississippi Valley Conservancy, I had the opportunity to witness the magic of the Paul Brandt School Forest. It's a beautiful outdoor classroom of the Boscobel School District. In addition to experiencing the beauty of the well-tended land, I saw and heard the exhilaration of busloads of students in grades 1-5 who streamed onto the property for their annual Earth Day celebration.
The land is named in memory of Paul Brandt, a beloved wildlife biologist who worked as a special conservation warden, land acquisition agent, property manager, and educator. Paul played an instrumental role in the creation of the Lower Wisconsin State Riverway, assisting the DNR in purchasing thousands of acres of public land.
Paul retired from the DNR in 2002, and in the summer of 2005, he approached the Natural Resources Foundation of Wisconsin and anonymously gifted $25,000 to create The Lower Wisconsin State Riverway Fund, a permanently endowed fund that will provide perpetual support for managing wildlife habitat and natural areas along the Riverway.
In 2005, Paul passed away unexpectedly at age 60, leaving over $600,000 to his Lower Wisconsin State Riverway Fund. Paul bequeathed 80 acres of land to the Boscobel Area School District that was dedicated as the Paul Brandt School Forest.
Paul's close friend Ruth Bauer was an art instructor for the Boscobel School District, and she helped nurture what Paul left behind by embracing and promoting the School Forest as an inspiring and educational resource for all children in the district. From 1987-2011 she taught Art Education for K-6 and Gifted and Talented for Boscobel Area Schools. She was also the Paul Brandt School Forest Coordinator from 2006 until her passing. Ruth lost her battle with cancer in 2019, at the age of 65.
Today, the property is managed for the school district by coordinator Greg Plotz, who was a friend of both Paul and Ruth. The buses of students come and go each Earth Day, and many classes visit the property to conduct a variety of projects throughout the school year. It includes a large school garden that students help to plant and harvest each spring and fall.
A pair of benches that commemorate Paul and Ruth sit atop a knoll that overlooks the pond at the Paul Brandt School Forest. It's surrounded by a hayfield that was hopping with bobolinks on the day of my visit. Greg assured me that the hay would not be cut until after the nestlings have fledged.
In the photo above, a raptor demonstration was given for the students at their annual Earth Day event at the Paul Brandt School Forest. The students also enjoyed surveying the pond, a scavenger hunt in the woods, and picnic lunches with classmates and teachers.