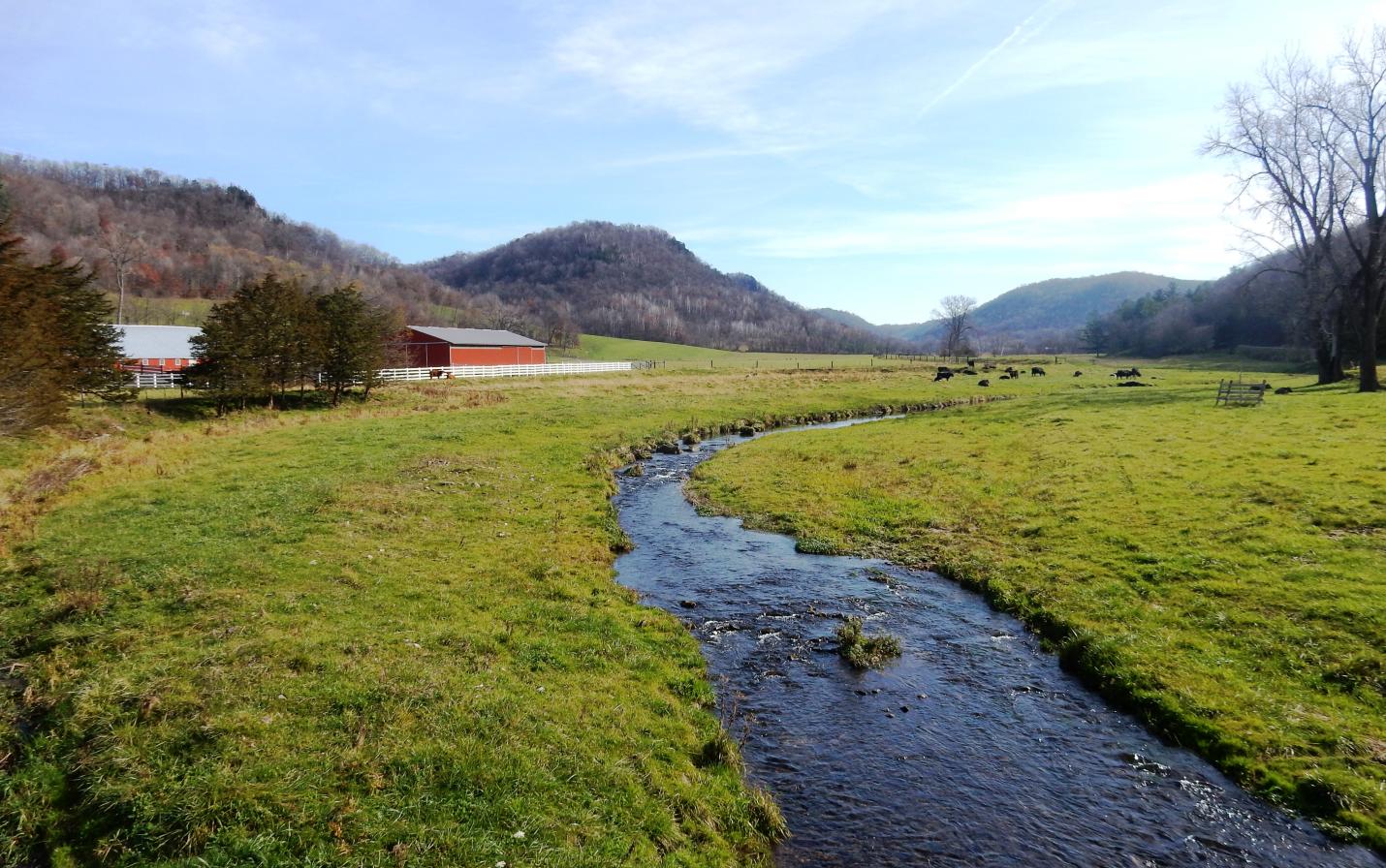 Climate-friendly ranching in Vernon County
As a visitor to Rod Ofte's 400-plus acres of Willow Creek Ranch, it is easy to idealize what greets the eye: a simple agrarian life where humans, land, and animals exist in harmony. Clear water burbles from natural springs into the cattle trough (no piping needed) and can be cupped in your hand for a delicious taste that no bottled promise can ever match. In the upper pasture bales of hay, grown in morning dew and fertilized by the rotationally grazed herd's own manure, dry in the sun for winter feedstock, smelling of grass and wildflowers. Closer to the barn, hogs have mud puddles to lie in, roaming turkeys keep bugs in check, and cows of varying colors and breeds will come over from the shade for treats made of molasses, garlic-sea salt, and kelp. Ofte's cattle live their entire lives on pasture (or sweet hay in winter) before they are taken to the local plant for processing and distribution to area retailers and CSAs. The only machine on these fields is his little ATV, bouncing across the pasture as he points out a red-tailed hawk.
But as Rod Ofte is quick to tell visitors, while he enjoys the rural work of this beautiful balance, maintaining it is never "simple." Indeed, the success of Willow Creek Ranch– financially, ecologically, and as a humane producer of what he calls "carbon-neutral proteins"– depends on complex negotiations in changing times. Ofte, who has an MBA, eschews "chasing economies of scale," knowing that more acreage and expensive motorized equipment don't always add up to bigger profit yields. Instead, he tells me, whether you want to be a savvy salesperson or a productive rancher, you must embrace the role of "listener" and "problem-solver."
Flex-fencing is a key tool among Ofte's problem-solving techniques. Rather than using permanent grids of wooden planks or barbed wire, Ofte's boundaries can shift in location and size. A roll of wire for a tensile hot fence hangs from a post, ready to be connected to any number of other posts to form different grazing areas to rotate cattle between. The sizes of these flex wire areas can be adjusted depending on the wet or dry fluctuations of seasonal change and later opened up when it is time to let the meadows grow high again.
Becoming carbon-neutral is another example of Ofte's problem-solving, both for his own energy costs and protection of the planet. Because the cows do all the work of fertilizing and harvesting their perennial supply of feed- grass, there is no need for the tillers, planters, pesticides, combines, and driers that are required to feed grain-fed beef cattle. Without all those fossil-fuel-intensive tools, his cattle are enhancing the health of his land and minimizing the ranch's greenhouse gas emissions. In turn, carbon is sequestered by the deep-rooted grasses and the green buffer zones along the nearby trout stream. Just as he tracks his finances, Ofte calculates the gains accrued for the environment. His zero-carbon achievement has been scientifically certified by a professor of grassland ecology at UW Madison who calculated that Rod's grazing operation removes 291 metric tons of carbon dioxide from the atmosphere per year – the equivalent of removing 63 average passenger vehicles from the road per year. Of course, this doesn't mean Ofte has stopped learning. He practices those "listener" skills too. As a regular attendee at Marbleseed's (formerly known as MOSES) Annual Agriculture Farming Conference and the Grass Works Grazing Conference, he not only shares what he has learned but also picks up new ideas, such as the solar- powered free-range collars coordinated with GPS systems that he hopes to try out on his cattle next year.
Rod and his wife, Deb, have hosted school outings at the Willow Creek Ranch, where kids learn about where their food comes from, get to try trout fishing, and explore the woods with a DNR expert. In the give and take of sharing and learning, Ofte avoids saying "you're wrong" by asking "why?" instead. He also makes sure to donate some of his all-natural, well-aged beef patties at local events. It may not be simple, but Ofte has created a complex pastoral that balances ecosystem health, animal health, human health, and profitability.
YOU played a role in helping Rod Ofte problem-solve for the future of his land. As he worked to transform a former tobacco farm into a grazing operation, he would call the Conservancy's Abbie Church with questions; she proved to be a trusted fellow listener and problem-solver. When he realized his daughters might not choose to be ranchers themselves, Ofte worked with us to protect his land through a conservation easement that ensures it will never be developed and will remain a part of the Driftless Area's agricultural landscape. Your support makes it possible for us to help landowners protect their land.
THANK YOU!