The following is an excerpt from an article about all of this year's Crawford County Conservation Award winners, published Thursday, September 1, 2023, in the Crawford County Independent & Kickapoo Scout.
The Crawford County Land Conservation Committee likes to recognize landowners that take active roles in managing their properties in a way that greatly benefits all wildlife.  A great example of this is the work done by Dewey Moore and Shelley Roberts.
Dewey was born and raised in the rural Midwest.  He could often be found exploring the wild areas around his home, stuffing snakes and rocks into his pockets.  As a young boy, Dewey earned money picking asparagus before school and spent summer days on family farms vining peas for Del Monte.  His enjoyment of agriculture and the outdoors led him into farming, and to a career as a geology professor.
Shelley was raised in the Rocky Mountains, spending outdoor time camping, backpacking, and working as a summer camp counselor.  She gained a solid appreciation of wildlife from her great-grandfather, who wrote two volumes of 'Birds of Minnesota,' and started the Minnesota Museum of Natural History.  The New Mexico Nature Conservancy was started in her family's living room, with her parents also advocating to establish the Rio Grande Nature Center and Albuquerque Open Spaces.
In 1969, Dewey bought a farm in Crawford County. Shortly after, he and a colleague brought Knox College students to the Ferryville area for 10 weeks to study farm life, wildlife, and native plants. Dewey was heavily influenced by Aldo Leopold, and taught that land ethic to his students, hosting conservation-minded students at the farm his entire career. Dewey even received a National Science Foundation grant to study his farm's scat. This 'poop collection' is a favorite with the grandkids!
"When Dewey and Shelley first began dating, Dewey put Shelley to what they now refer to as the 'girlfriend test'," Troester said. "They would spend weekends trimming black walnut trees at the Ferryville farm.  Needless to say, she passed!"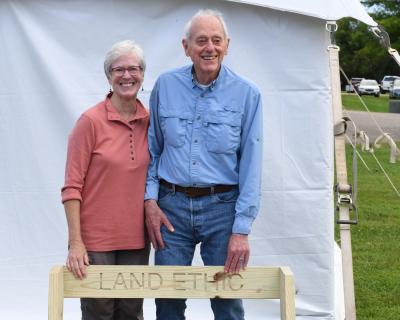 According to Troester, the conservation efforts on their property are "immense." The property has been enrolled in the Managed Forest Land program since 1970. In 2006, they enrolled some land into the Conservation Reserve Program. This entailed planting 1,200 hazelnut, 1,200 ninebark, and 1,200 wild plums for wildlife food on five acres, and planting another 30 acres with native grasses and wildflowers.  
"The USDA's EQIP program and Crawford County's cost-sharing initiatives helped them construct six grade-stabilization structures, which protect ridge cropland, and create wildlife water holes," Troester said. 
They have restored some pasture ground for rotational grazing. Then after learning of the importance that oak trees play in hosting insects for migrating birds, they have specifically worked on pushing back brush to expose oaks along forest edges. Also in these areas, they have been planting prairie grass and radish seed to serve as erosion control and wildlife food.  
These days, Dewey and Shelley spend a lot of time tending the prairie and their pollinator garden, as well as removing invasives from their woods and shrub acreage.
"An extremely important event for the farm occurred back in 2009. It was at that time that Dewey and Shelley put their land into a conservation easement through the Mississippi Valley Conservancy," Troester said. "This easement will ensure that the property remains preserved and protected forever. Their conservation easement is their gift to the future. Shelley told me that Mississippi Valley Conservancy provides invaluable stewardship guidance, and helps them to inventory wildlife on the property."
Also of note is their volunteer work assisting Crawford Stewardship Project with its Karst Study, as well as wetland restoration projects with the Albuquerque Wildlife Federation. Dewey and Shelley are members of numerous other groups:  Valley Stewardship Project, The Nature Conservancy, New Mexico Nature Conservancy, New Mexico WILD, Friends of the Rio Grande Nature Center, the Quivira Coalition, Cornell Lab of Ornithology, World Wildlife Fund, and the Sierra Club.
"As you can tell, Dewey and Shelley are very committed to protecting our natural resources," Troester said. "Shelley told me that it was Dewey's worldview that convinced her to marry him and share the pleasures and responsibilities of country life.  Clearly, their joint passion for conservation greatly benefits the wildlife in the area."
Photo of Shelley Roberts and Dewey Moore by Charlie Preusser