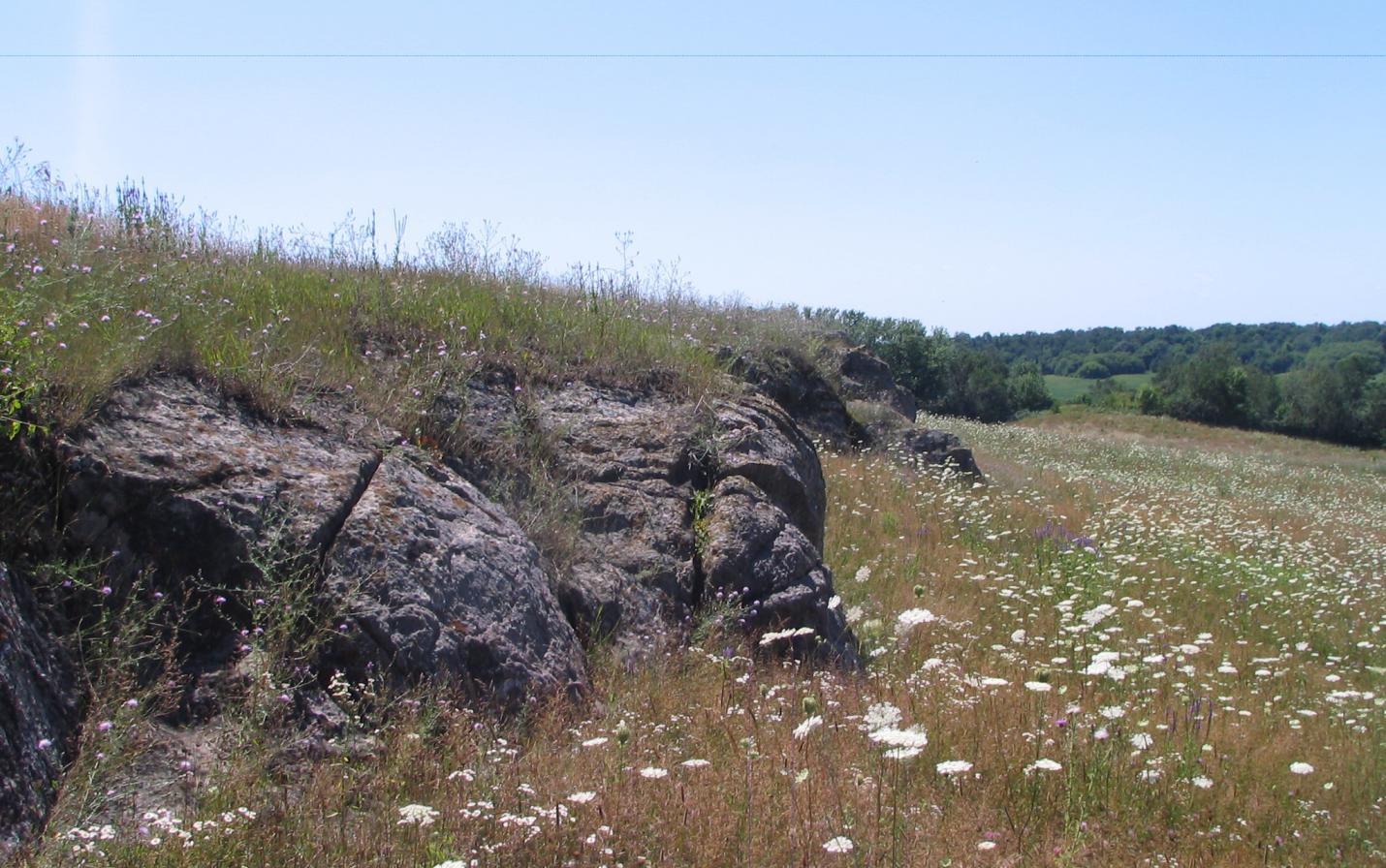 Grant Smith shares insights from his visits to Holland Sand Prairie and Borah Creek Prairie.
I celebrated the 50th anniversary of Earth Day by driving through the Driftless Region to Fennimore, Wisconsin, where I spent a few hours hiking through the Borah Creek Prairie.
When I think of hiking, I generally imagine high peaks, rugged trails, mountain vistas, wooded forests, majestic overviews. But I found the reward of exploring a Wisconsin prairie is as satisfying as getting to the top of a Colorado "fourteen-er."
By definition, a prairie is characterized by a lack of trees and tall shrubs and is dominated by a variety of grasses, marshes, and broad-leafed, non-woody plants. At one time, prairies covered 40 percent of the lower 48 US states, and they were home to buffalo, prairie dogs, wolves, grizzlies, elk, and blue stem grasses that reportedly grew head-high to a man on horseback. The 181 acres of Borah Creek Prairie is what remains in western Wisconsin of prairie land that 200 years ago was more than two million square miles.
I could not find detailed trails at Borah Creek, but there are a farm road and many "deer trails" that took me throughout the prairie. I understand they do mow some trails each summer. The grass was not as high as described by early settlers, but many bunches were at eye level: the bluestem grass, Indian grass, side-oats grama, and prairie dropseed. The wildflowers were not yet in bloom at Borah Creek in mid-April, but this prairie is home to the pasque flower, cream wild indigo, rattlesnake master, rough blazing star, yellow coneflower, bird'sfoot violet, downy gentian, and the Great Plains ladies-tresses orchid.
But I was not disappointed by the absence of wildflowers at the preserve; instead, I took pleasure in the uninterrupted view and the quiet. Even though the prairie is maybe ten minutes from Fennimore and borders a highway, I heard nothing but the wind rustling through the grass. Few things are more liberating than to feel the wind and sun on your face as you contemplate a time removed from social distancing, flattening the curve, pandemic, and personal protective equipment.
The Borah Creek Prairie is 83 miles from my home in Onalaska, Wisconsin. But another prairie, the Holland Sand Prairie, is only 11 miles from my front door. It offers some of the same delights as Borah Creek, but also significant differences.
The Borah Creek Prairie has a rolling landscape, an outcropping of Platteville limestone, a small knoll, and (when I was there) a dry marsh. The Holland Sand Prairie is only a small section of the Mississippi River Terrace that 12,000 years ago stretched from La Crosse to Galesville, Wisconsin. Its landscape is flat, easily traversed in wide trails that divide and circle the preserve. The Borah Creek Prairie is treeless. The Holland Sand Prairie has few trees other than a lone pine that stands as a patriarch in the center of the refuge.
Both prairies are noted for the biodiversity of the flora. Borah Creek is home to eight rare and protected plant species. The dunes and hollows on the Holland Sand Prairie are the only undisturbed wind-formed landforms in the area and are home to roughly 150 plant species – some of which are also threatened. Both preserves are surrounded by "man-made prairies." A fenced pasture borders the Borah Creek Prairie on one side; the boundary is completed with a highway and cornfields. The Holland Sand Prairie is bordered by McHugh Road, a cornfield, and a housing development.
If you hike Borah Creek, wear sturdy shoes, long pants, a cap, and perhaps a long-sleeved shirt. I pulled burs from my sweatshirt before I returned to my car. If you hike Holland Sand Prairie, comfortable walking shoes will suffice. The mowed trails will protect you from prickly bushes, and an occasional bench provides a place to rest or to visit with a friend. Neither preserve has shade, so if you hike in the summer, take a water bottle. But both prairies allow you to experience solitude and what Emily Dickinson called "reverie," an opportunity to hear the "white noise" of the wind and to be lost in one's thoughts.
Historically, prairies were maintained primarily by frequent fires, either started by lightning strikes or by Native Americans who burned large areas to produce food for game or to aid in hunting and gathering activities. At the Holland Sand Prairie a visitor can see evidence of recent controlled burns used to help native plants thrive.
When Mississippi Valley Conservancy invited me to hike the various trails in its protected preserves, I never imagined that two of my favorite hikes would be prairies. I believed that the Conservancy only protected bluffs, coulees, deep ravines, scenic ridges, dense forests, clear creeks. But these two prairies reminded me of the importance of diversity in our environment. If I can see the beauty and purpose in a prairie, then I can also see the beauty and purpose of other lands and include the people who populate them. I can learn about the value of difference in the peace of a spring prairie breeze.
I learned from Borah Creek and Holland Sand prairies that it is easy to stand amazed at the rim of the Grand Canyon or to kneel in humility at the summit of Mt. Whitney. But we can also connect with our soul when we watch the swaying movement of the prairie dropseed, and marvel at the delicacy of a pasque flower. I have hiked to the highest point of all but two of the nation's 50 states. I have recorded the grandeur of America's iconic sites. Now I shall turn my attention to other terrains to understand what makes our environment complete.
Grant Smith is a retired Viterbo University English professor.
Learn more about the Borah Creek Prairie and download a trail map.
Learn more about the Holland Sand Prairie and download a trail map.
Sign up for the Trail Trek Challenge.
Photo of limestone outcropping at Borah Creek Prairie (above).
Images of Borah Creek Prairie
Images of Holland Sand Prairie