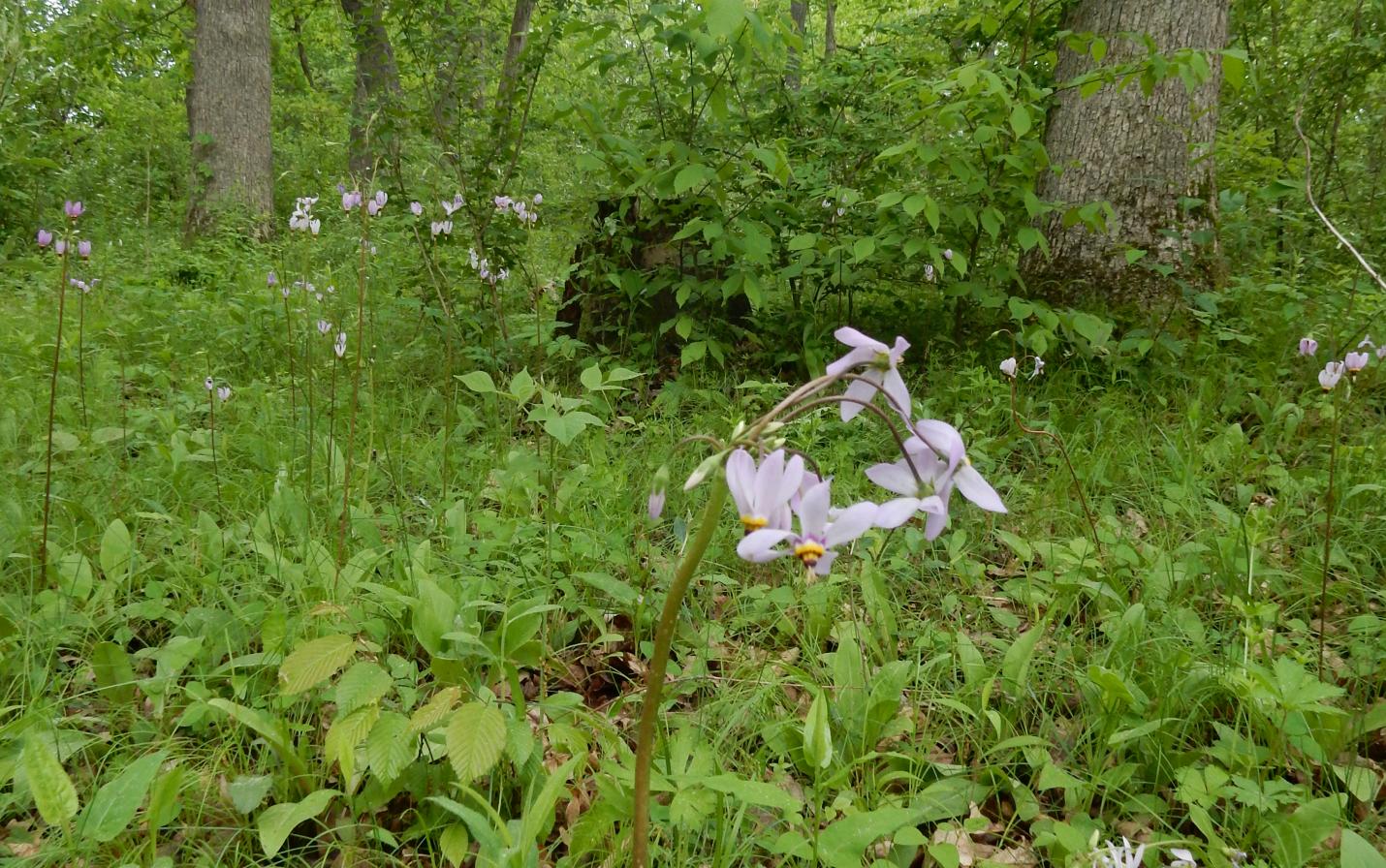 The cave is currently closed for the bat hibernation season, but you can enjoy a video tour anytime at this link.
Kickapoo Cavern's 83 acres includes mature oak and hickory forest intermixed with oak savanna, native remnant prairie, limestone cliffs and rock outcrops. The site was originally a commercial show cave and tourist attraction, though the owner, the late Delores Gaidowski, took great care to protect the wildlife and habitat of the site. Delores' daughter, Carole Porter, was thrilled to be able to work with the Conservancy to honor her mother's wishes to find a like-minded steward for the future of the site. The land was transferred into the Conservancy's ownership on August 25, 2017.

Kickapoo Caverns includes one of Wisconsin's longest natural cavern systems just west of Wauzeka, Wisconsin. The site features a stunning limestone cavern system includes an underground pool, beautiful cave formations, and most importantly, provides hibernacula for the federally threatened northern long-eared bat and state-threatened little brown bat and eastern pipistrelle. Bats utilize river corridors for migration and the Caverns are located just a few miles north of the Wisconsin River, west of the Kickapoo River and nine miles east of the Mississippi River. In addition to the bats, the land is also home to other rare species, including the state-threatened cerulean warbler.
The Caverns will be featured at guided tours and special events and closed during the hibernation season August 15 through May 15. Check our events page to learn when tours or special events are scheduled. Sign up for our newsletter for conservation updates and more ways to get involved.
Acquisition of the Kickapoo Caverns property was funded in part by Knowles-Nelson Stewardship Fund, Paul E. Stry Foundation, John C. Bock Foundation, Whitetails Unlimited, Clif Bar Family Foundation, Wisconsin Land Fund, and Crawford County Community Fund.
In 2023, Mississippi Valley Conservancy received a grant from the Community Foundation of Southern Wisconsin's Crawford County Community Fund to replace the former gift shop at the cave entrance with an interpretive display to inform visitors about the unique geology, wildlife, and history of the cave. This display will be available to view on schedule tour dates. Otherwise, like the cave, it is closed to the public to protect the bats in the cave from August 15 through May 15. The property is monitored and maintained by site stewards and a bat research team throughout the year.
This 83-acre property provides regionally important winter hibernacula for three species of state-threatened bats.
Land Type
Nature Preserve
Protected
Directions
From La Crosse: Take Hwy 35 south 40 mi. Turn left (east) at Lynxville onto County Road F and go 3.5 miles. Turn right (south) onto Hwy 27 S and go 6.6 mi. Turn left onto County Road N and go just over ¼-mile. Turn right (south) onto Dutch Ridge Rd. and go 0.8 mi. Turn a very slight left (east) onto Rhein Hollow Rd. Go 3.7 miles to the gate at 54850 Rhein Hollow Rd, on the left (north side of the road).
From Wauzeka: Head west on Highway 60 for 2.2 miles. Turn right (north) onto Dutch Ridge Rd. and go 1 mi. Stay straight onto Rhein Hollow Rd and go 1.1 mi. Look for the gate at 54850 Rhein Hollow Road, on the right.