Plum Creek Conservation Area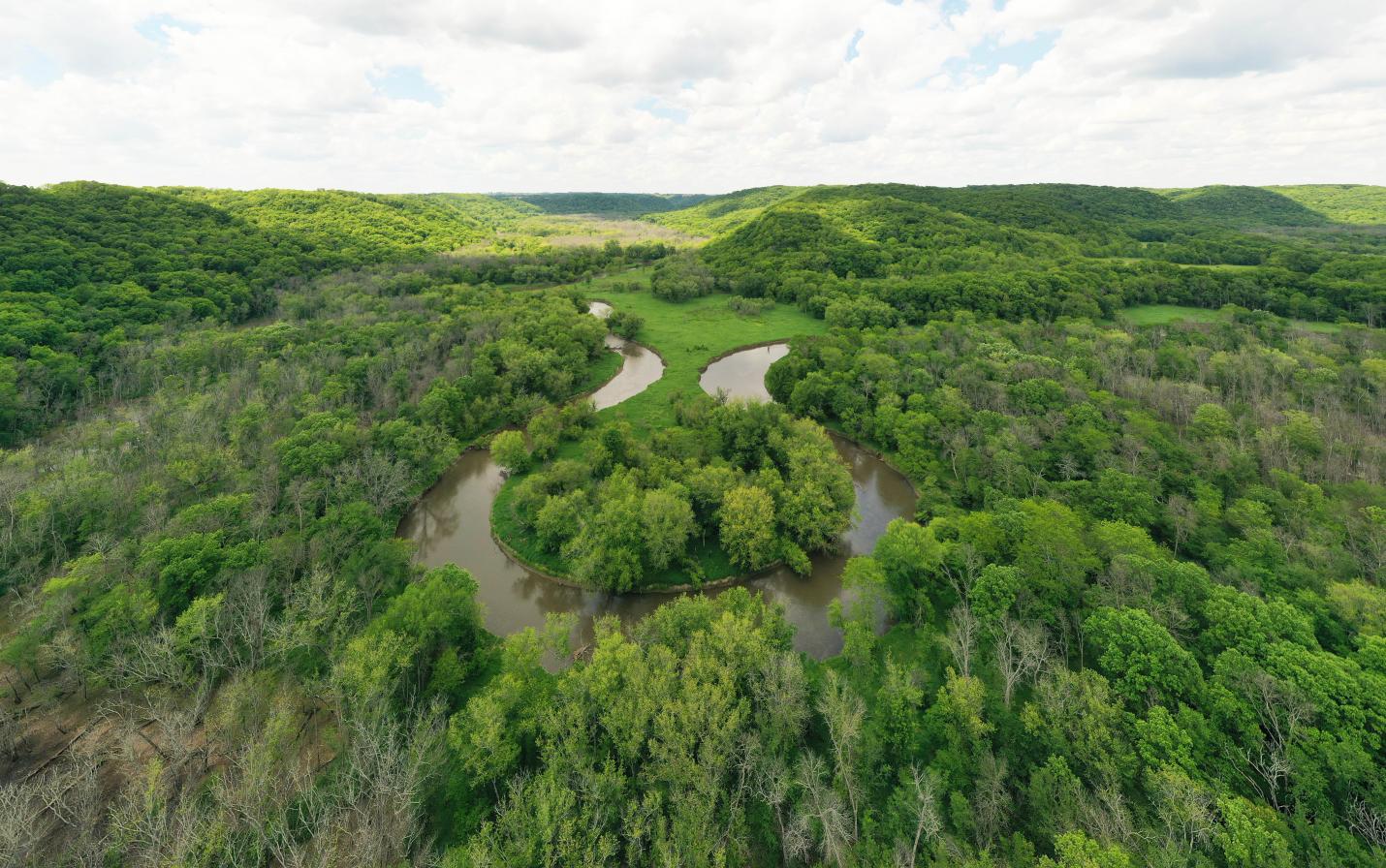 Plum Creek Conservation Area is a 1,611-acre parcel of rugged land located just north of Wauzeka in Crawford County. The property includes over five and a half miles of frontage along the west bank of the Kickapoo River and over two miles along both banks of Plum Creek, a Class I trout stream. It is next to DNR's 1,927-acre Kickapoo Wildlife Area-Wauzeka Unit that includes the 635-acre Kickapoo Wild Woods State Natural Area. These protected areas, now enlarged by the Plum Creek Conservation Area, support one of the highest concentrations of rare forest-interior breeding birds in southern Wisconsin, including many considered high conservation priorities in eastern North America.
Mississippi Valley Conservancy (MVC) acquired the land in early 2022, with a major gift from an anonymous supporter, and in close collaboration with The Nature Conservancy in Wisconsin (TNC), and the Wisconsin Department of Natural Resources (WI-DNR). The land will be protected and restored to provide natural services such as flood protection, recreation opportunities for outdoor enthusiasts, and an expanded area of connected lands that provide refuge for wildlife whose native habitats are threatened by climate change and development.
The Conservancy will be working closely with our partners at TNC and the Savanna Institute over the coming year to develop a long range plan and vision for the site to achieve conservation goals that include healthy habitats, water quality protection, and resilience to climate change. Much of land will continue to be farmed and grazed while integrating regenerative farming practices as part of the management plan. Those portions of the protected land that were previously open to the public for hunting, fishing, paddling, and other low-impact recreation will remain open to the public for those uses.
With additional funding from TNC and another generous donor, an endowment fund has been established to help manage the long-term restoration and care of the property. Learn how you can help.
Birds of the Plum Creek Conservation Area
1,611 acres of farmland and pasture, diverse woodlands, and wetlands
Land Type
Nature Preserve
Protected
Directions
During the land management planning process, public access points and the need for signage and maps will be defined. Meanwhile, the map you can download from this page identifies the main roads and the portions of the property that remain available for public access.
Land Notice/Alert
This property is a working farm and is pastured with cattle. Please respect fences and gates.
With questions about the property and access, please see the public access map above or contact Michael Reitz, Restoration Ecologist, by email or by phone at (608) 784-3606 ext. 11.